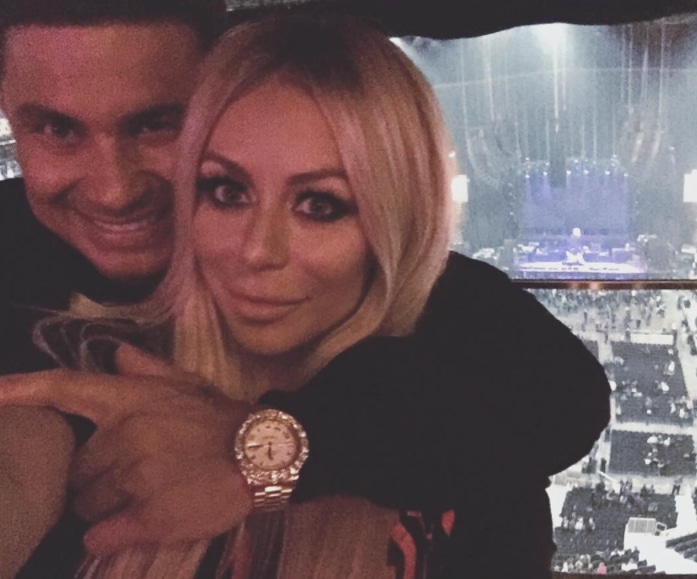 E!
Aubrey O'Day and Pauly D's rocky relationship rollercoaster continues to have its ups and downs.
The reality stars, who met on E!'s dating show Famously Single, have broken up again, a source confirms to E! News. However, the split wasn't exactly mutual, as Aubrey doesn't even know about it yet! The former Danity Kane singer is currently filming Celebrity Big Brother in the U.K. and doesn't have access to communication outside the set.
As for the reason for the split, a second source tells E! that Pauly didn't like a video he saw of Aubrey on Celebrity Big Brother so he decided to pull the plug and delete all photo of her from his Instagram.
The breakup may just be temporary though as the duo have been known to be very on-again, off-again.
Watch:
Aubrey O'Day Reveals Pauly D's Penis Piercing
Pauly and Aubrey first broke up back in May. "I'm the first girl Pauly has ever loved as he admits on the show – never loving before me," O'Day told E! News at the time. "He brought me into his life with his daughter and mother, who I respect dearly. Nothing about our relationship was not serious. Neither of our busy schedules have anything to do with why this didn't work. At the end of the day, we tried our best."
The lovebirds got back together just days after.
Brandon Hickman/E! Entertainment
Aubrey later told E! News of their brief breakup, "It's very difficult to build a relationship as a celebrity couple and have the personal life and the public come together as one. We were having a difficult time with all of that, and we've figured out how to be the strongest team that we can be. We both wanted to be together, and we weren't willing to not let that happen. So, we fought for each other, and we made it through."
"Pauly is so different from anything I've ever experienced," she added. "He really is his own authentic self, and it's so much deeper than anyone ever has seen on any of the shows that he's done or the persona of him in public. That is what I adore about him most. He has a lot of traits—like very manly qualities. There are certain things to him that he will protect until the end of time, and I'm one of them."
—Reporting by Beth Sobol