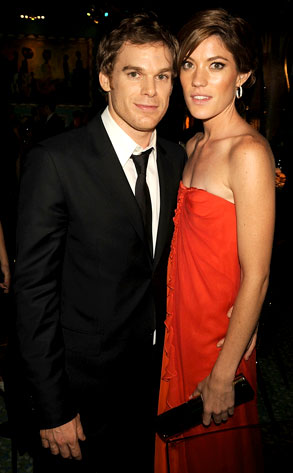 Jeff Kravitz/Getty Images
Update: Jan. 9, 5:25pm: This afternoon, Jennifer hit up a gift lounge hosted by Access Hollywood at Sofitel L.A. and showed off her new ring. As you can see from the photo now posted below, the couple likes to keep things sweet and simple...
Dexter and his sister have gotten hitched!
But fear not, Dexter fans, the nuptials went down in real life, not on the hit Showtime series. (The show isn't that twisted.)
Michael C. Hall's rep confirms to us that the Golden Globe-nominated actor eloped on New Year's Eve with Jennifer Carpenter, who plays Dexter's tough-talking sister Deb.
"They were married outdoors in Big Sur, California," Craig Bankey tells us. Jennifer carried a bouquet of white roses with her grandfather's wedding band attached.
And another reason to tune in to E!'s live Golden Globe coverage this Sunday: Michael, 37, and Jennifer, 29, who have been secretly dating for about a year and a half, will make their first public appearance together on the red carpet at the Beverly Hilton. The series is up for multiple awards, including Best Actor in a Drama for Michael.