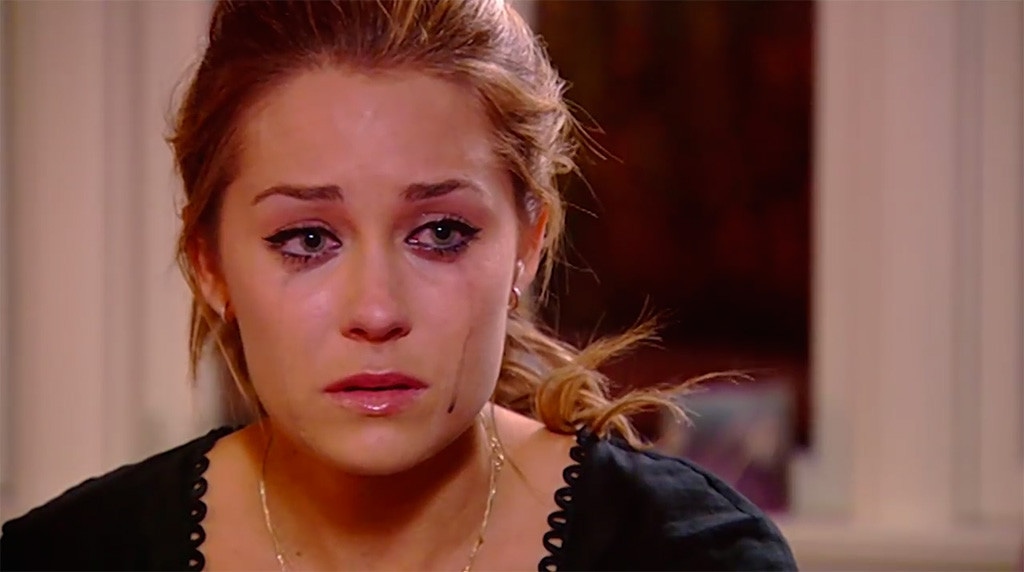 MTV
Lauren Conrad is happy to dispel a sad rumor.
Ahead of the MTV special The Hills: That Was Then, This Is Now, premiering Aug. 2 at 9 p.m., Conrad reflected on one of her more memorable moments from the hit reality show's fourth season. In one scene, while talking with Audrina Patridge, Conrad shed a single black tear. To her surprise, the makeup mishap later became one of the most popular GIFs on the Internet. Speaking to MTV News, Conrad, now 30, recalled, "I don't think it was the mascara. I think it was the eyeliner that was running. I still wear the same mascara, and it doesn't run like that."
For years, Conrad—like many viewers—assumed her mascara was to blame. And, in a 2013 Cosmopolitan article, Conrad said, "You know that they slowed it down in the show right? I asked my producer and he told me they put it in slow motion to give it a more dramatic effect. That day it was filmed I was really sad—and I wasn't wearing waterproof mascara. Whoops."
But Adam DiVello, The Hills' creator and executive producer, said the iconic shot of Conrad crying "just happened" and "became a thing." As he told Refinery29 in April, "You're watching little monitors, and when you get that like black eyeliner roll, you're just like, 'Damn, this is so great.'" Because The Hills didn't use to-camera confessionals, à la The Real World or The Real Housewives, he explained, "We have no other device to tell stories other than something like a black mascara line running down her face. You clearly notice she's upset, and that's so far and few between. Other than the help of music, that's really all we have, so those were extremely helpful to us and they kind of became Lauren's hallmark...We got so many letters that were like, 'Why didn't she wear waterproof mascara?,' and I never could answer that. I didn't know."
Conrad, it turns out, was misinformed. "I think it might have been slowed down in the trailer, but not in the show," executive producer Sean Travis said. "It would be a little strange in the episode when we're supposed to be in a kind of real-time scene for [the tear] to slow down."
"We would joke that we'd have these scenes where Lauren is finally going to talk to Audrina, and we would swear that Lauren would wear the runny mascara where because of that, she would literally 'win' the scene. They're both crying, and Audrina's mascara wouldn't run, and Lauren's would. Therefore, our hearts would go out to Lauren. We thought, 'Does she do it on purpose? Does she wear the runny mascara because she wants to [win]?'" he said. "I mean, I don't think so. She tries so hard not to cry. She used to say, 'Guys, I'm so tired of crying on the show.'"
Conrad told MTV News it was "very normal" for her to get emotional during confrontations on The Hills. She's since learned to keep her emotions in check, promising, "I rarely cry these days."
While The Hills wasn't scripted, Conrad and many of her co-stars have said they felt manipulated or set-up when cameras were rolling. "Confrontation was—I don't want to say 'forced,' but 'encouraged,'" she said in a sneak peek from the special. "Typically if you have a fight with your friend, you don't pick up your phone for a few weeks. But when you have a scene scheduled with them two days later, you kind of have to talk about it." Before leaving the series midway through its fifth season, a light bulb went off. "Sometimes when we were filming and I was really uncomfortable and didn't want to be there," Conrad said, "I would just leave."