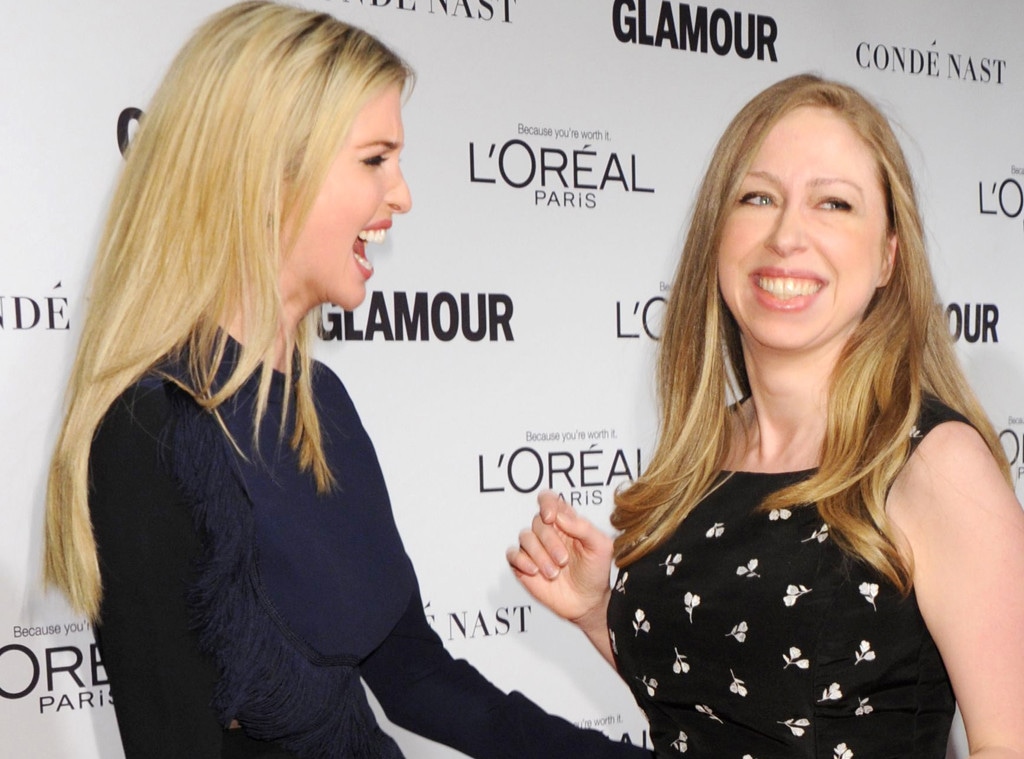 REX Shutterstock
As the old saying goes, a daughter is a day brightener and a heart warmer. Fast-forward to the present and that adage is holding fast.
Presidential nominees Donald Trump and Hillary Clinton have traded countless jabs as they compete to be elected to the nation's highest office, and there will be many more to come before November. Clinton's husband is in on it. Trump's sons are in on it.
You know who isn't in on it?
Whether or not their parents have asked them to go there or not, Ivanka Trump and Chelsea Clinton have stayed above the fray. And it's not just because they go way back and they're being respectful for old times' sake. Hillary and Donald go way back, after all. Hillary and Bill Clinton had a front-row seat at the church when Donald married Melania Trump in 2005.
Maring Photography/Getty Images/Contour by Getty Images
But politics changes things. It always has, and always will. When folks are at war, they fight.
Often times it's up to the people on their teams to add nuance to their arguments—and that is what Ivanka and Chelsea are doing.
Chelsea will introduce her mom tonight at the DNC, so the exact content of her speech remains to be seen, but Ivanka was already lauded last week for her upbeat, pro-woman introduction of her father at the RNC. (So, spotlight's presumably on Chelsea to deliver a similarly hopeful address.)
Andrew Renneisen/Getty Images, AP Photo/J. Scott Applewhite
Meanwhile, though respective pregnancies kept them off the campaign trail for most of the last year, each is back in action and has been given multiple opportunities in a short amount of time to...well, frankly, to stick it to the other one. Or at least to stick it to each other's mom and dad.
Yet somehow, someway, Ivanka and Chelsea are keeping their cool, and even maintaining a mutual admiration society of two.
Asked by Matt Lauer how she was dealing with the Trump campaign's slams against her mother, Chelsea said in an interview that aired this morning on Today, "As proud as I am as a daughter, my most important identity now is as a mother. And so, when I was kind of watching what was happening, what was being said in Cleveland last week, I just kept thinking about what my mom has said repeatedly about when people have asked her similar questions. She's tough and she can take whatever people say about her."
She "absolutely" would consider Ivanka Trump a friend, Chelsea said when Lauer brought up how the mudslinging has gone both ways.
"Why not convene a summit?" he asked. "A children's summit. Maybe just a daughter summit. You and Ivanka sit down over a cup of coffee and discuss tone and discuss what it's like to hear those things coming out of the other candidate's mouth about the person you love."
"It isn't something that had occurred to me but it's certainly something I would consider," Chelsea offered. "I think it was clear last week, when Ivanka introduced her dad, that she's so proud of him. I hope it will be at least as clear why I'm so proud of my mom when I introduce her, here, in Philadelphia. And yet clearly Ivanka and I have very different views about who we think should be our president, who we think best represents our country."
Reiterating how Trump wasn't hesitating to bring up the "darkest moments" of her family's past, Lauer asked if Chelsea would sit down with Ivanka and say such tactics didn't fit in with "the rules of engagement."
"Well, I don't expect her to always have to defend her father," Chelsea reasoned. "I think it's clear that Mr. Trump is running his campaign and saying what he thinks is important in this election. I think what we're seeing here in Philadelphia is a very strong contrast to that."
(If there were a summit, Chelsea would also presumably bring up her equal pay question in response to Ivanka's RNC speech.)
But who can understand Ivanka better than Chelsea, and the other way around, particularly at this moment in time?
From being young moms who are working on raising their own families, to having grown up in the spotlight, to having to figure out how best to absorb/ignore the worst of what's being said while still trying to make their own points—they are in a unique place to truly get what the other is going through.
A source told Politico back in March that Ivanka and Chelsea, though definitely friendly, weren't exactly stuck-at-the-hip besties.
However, the source said, "they genuinely relate to each other and care about each other and ran in the same circles," the source said.
Paul Zimmerman/WireImage, Larry Busacca/Getty IMages
A few months have gone by that have been bruising for both presidential candidates, but Ivanka also insisted recently that her bond with Chelsea will survive the 2016 election.
"We're both incredibly supportive of our parents, as we should be," she told People earlier this month. "But we also continue to have great respect for one another."
Moreover, "our friendship has never been about politics. I don't expect it will be about politics in the future."
A lot can happen in a few months, but Ivanka and Chelsea both can enjoy the luxury of foresight in this case. Both Ivy League-educated businesswomen know that someone's going to lose in November—and wouldn't it be so much nicer if they didn't have to start repairing their personal relationship the day after Election Day?
Grant Lamos IV/Getty Images, Larry Busacca/Getty Images
At least before the 2016 presidential race got underway, the ladies and their husbands frequented the same social circles—and they've historically had nothing but the nicest things to say about each other.
"She's always aware of everyone around her and ensuring that everyone is enjoying the moment," Chelsea told Vogue for an Ivanka profile in February 2015. "It's an awareness that in some ways reminds me of my dad, and his ability to increase the joy of the room. There's nothing skin-deep about Ivanka. And I think that's a real tribute to her because certainly anyone as gorgeous as she is could have probably gone quite far being skin-deep."
Ivanka's husband, Jared Kushner, also told the mag, "There's not a lot of bulls--t in Ivanka's life. Living through everything that she saw as a kid, she has a very good filter on what's real, what's not, what's worthwhile, and what's not. We both work very hard to not allow things that aren't meaningful into our lives."
He may have been talking about other matters when he said that, but has anyone done a better job describing how to follow the 2016 presidential race since?