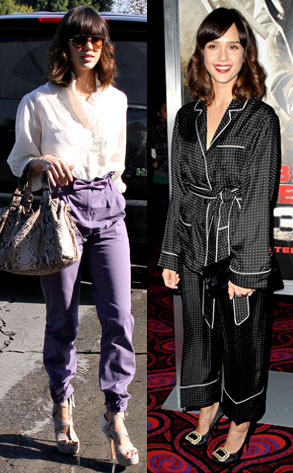 Jason LaVeris/Getty Images, RIV/Fame Pictures
Is Jessica Alba suffering from postpartum depression or something? We don't know how else to explain the truly tragic wardrobe Alba's been pulling out of the closet (or a drainpipe) this week.
Babe crawled out of bed to attend the screening of My Bloody Valentine in PJs. Jess, if you insist on wearing sleepwear outside, at least make it a nightie, wouldya? We know you've still got the bod, so why cover it up?
And the very next day, J.A. strolled through L.A. in tapered, pastel purple pants with five story hooker heels. These style choices are on par with pink-wig Britney, but at least Brit could blame it on mental probs. What's your excuse, Jess?