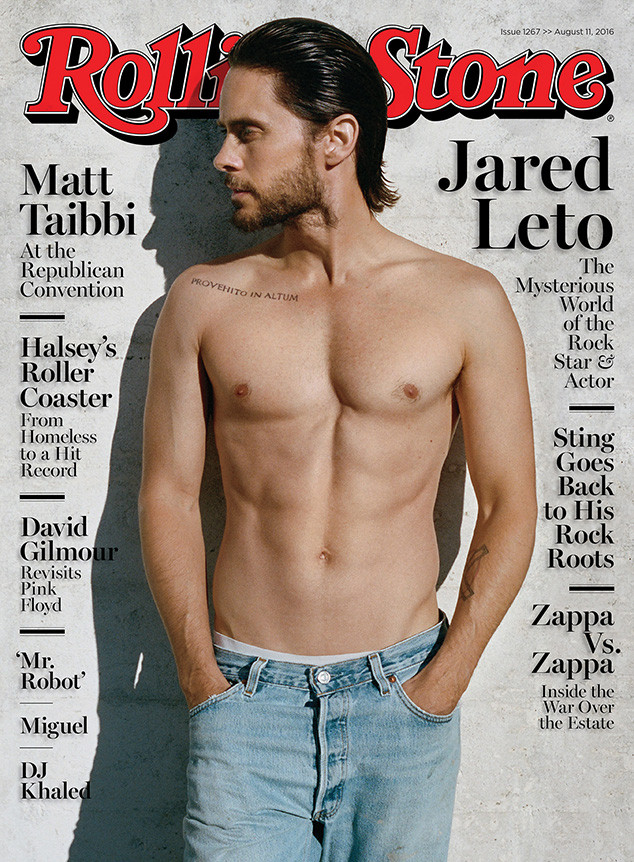 Theo Wenner/Rolling Stone
It's hard to get a read on Jared Leto—which, it turns out, is his intention.
The 44-year-old Suicide Squad star, whose famous exes include actresses Cameron Diaz and Scarlett Johansson, declines to reveal whether he's dating anyone new in Rolling Stone's Aug. 11 issue (on newsstands Friday). "Even if I was in a relationship or maybe if I was having kids, I don't know if I would share that information publicly," he says. Later, musing on his past loves, he asks, "You know what I've learned about women? I know absolutely nothing about women."
"The older I get, it's just people," Leto explains. "I just see people."
Leto adds that he hasn't decided whether he'll ever get married. "It's just how things are. I don't think there's a definitive decision that I've made." The prospect of parenthood is yet another uncertainty. For all Leto knows, he's already fathered a love child. "You never know. Someone could always come up to a show and give me a little surprise visit. 'Dad?' In a way, that would be kind of f--king beautiful," he says, a bit wistfully. "What an incredible surprise that would be!"
By his own admission, Leto's childhood was atypical. Unlike many of his peers, he wasn't into academics or athletics. "I was too busy taking drugs, which was kind of a sport," he jokes. Today, Leto says he's "essentially" straight-edge, meaning he doesn't do drugs or drink alcohol. "There's all kinds of ways to change your state of mind or to get out of yourself." He's not referring to psychedelics, though. "Only if I'm having an orgy at Burning Man will I take that."
(Leto is probably kidding; he did go to Burning Man last year, though.)
Talking about his upbringing seems to make Leto uneasy. "I lied about it so much, I don't know what the truth is," the 30 Seconds to Mars frontman says. "I remember River Phoenix saying in an interview that he tried to lie as much as possible, and I just took that approach ever since."