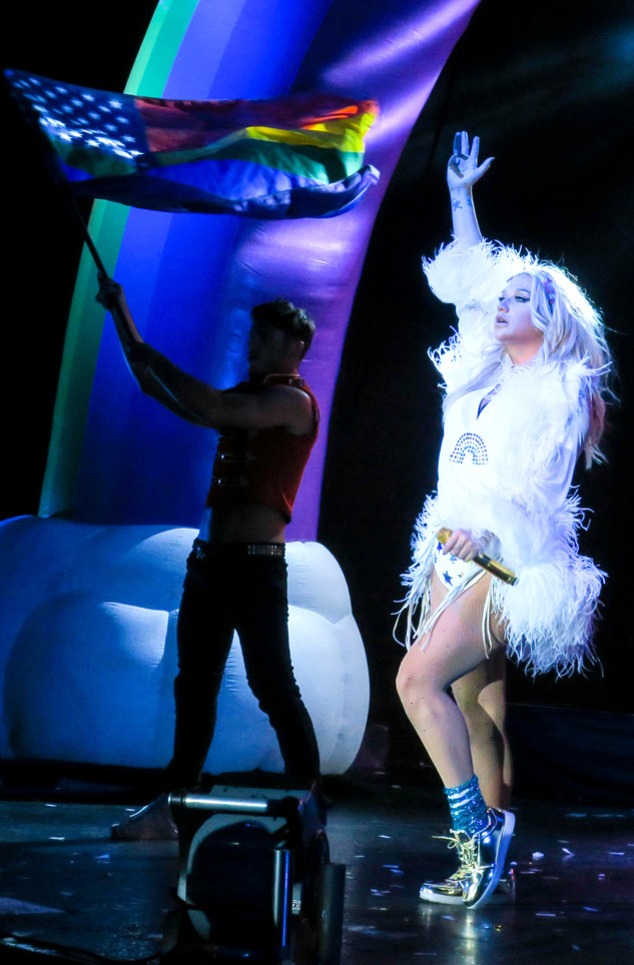 Ronin 47/London Entertainment/Splash News
Kesha took a moment during a performance at the Democratic National Convention on Tuesday night to address her tumultuous lawsuit with Dr. Luke.
The singer performed at an Americans for Responsible Solutions PAC event for Gabby Giffords in Philadelphia. She paused to thank the politician and discuss the "hurt" and ''pain'' she's felt, not only from her lawsuit but from the tragedies that have struck the nation lately.
"I know we came here to boogie, but I have a few things to say," she began. "I'd like to thank Gabby Giffords for having me. I've been thinking about it because I feel like if you're a human being, you go through things, and you go through hurt. And every single one of us knows that emotion. I don't know if you guys know what I'm going through, I'm going through a lawsuit."
She continued, "We as a nation, we can't control who feels hurt. We can't control who feels pain and we can't control what you do with the hurt, and the pain and the anger. You can't control every single person and know how they're going to deal with things or if they're going to pick up a weapon—you don't know that."
However, she did propose change and the idea that we can control who has access to weapons, alluding to more gun control.
"What we can control is who we give the f--king weapons to," she said. "I think the universe is screaming at us that there needs to be a change and we have to f--king listen."
Finally, she also asked the audience to seek love. "I do think love is something as humans we all have and I hope heals us. I really believe that love and empathy, it can heal us."
This isn't the first time Kesha's called for gun control.
After Christina Grimmie's death last month, took to Instagram to pay tribute to the 22-year-old and voice her concerns over gun control in America.
"I'm shocked and horrified. And angry. How many times are we as a nation going to read a horrific story like this, where someone uses a gun to kill an innocent person, and DO NOTHING. I demand gun control," Kesha wrote alongside a black-and-white photo of her with Grimmie.
"This is sickening. I am so so so sorry for Christina's fans and family. My heart is with you. She was a beautiful spirit and will not be forgotten."
Meanwhile, Kesha remains in a legal battle against Dr. Luke after suing him for sexual assault and battery. She made the claims in the 2014 lawsuit against the 42-year-old music producer, who had worked with her in the past. She is also seeking to invalidate her recording contracts with him. Dr. Luke, 42, has said  he "didn't rape Kesha" and "have never had sex with her" and had also filed a countersuit.
—Reporting by Alli Rosenbloom
Watch:
Charlie Puth Talks Kesha and Dr. Luke's Legal Battle