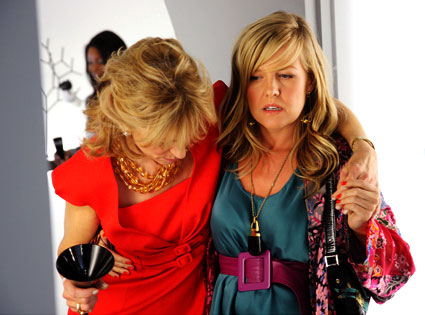 ABC/ERIC LIEBOWITZ
According to sources, one of Ugly Betty's main castmembers (a regular since season one) has asked to leave the ABC series, and it's looking like producers will write her off the show. 
And that's not all: I'm told another character you know and love is going to be killed off this season.
So which two characters are leaving? Here's the exclusive dish...
Jessica Vespa/WireImage.com
According to insiders connected to the series, the fantastic Ashley Jensen, who plays Betty's BFF Christina and is also well-known to you Extras fans, is the series regular who has asked to leave Ugly Betty.
According to one source who works on the show, Ashley is not expected back as a series regular for Betty's fourth season in the fall. However, another insider also tells me, "Ashley is still very much a part of the show, and nothing has been decided yet as far as storylines for next season."
If Ashley does make an exit, the storyline possibilities are of course endless on a show like Betty. As you fans know, Christina is currently knocked up with Wilhelmina's spawn in order to get money to help save her husband's life.
As for the second character who will be killed off, it's someone who just came on board this season and whom the fans—and a certain Meade—fancy.
And no, despite the photo above it is not Judith Light.
Guesses? The comments are all yours for the taking!