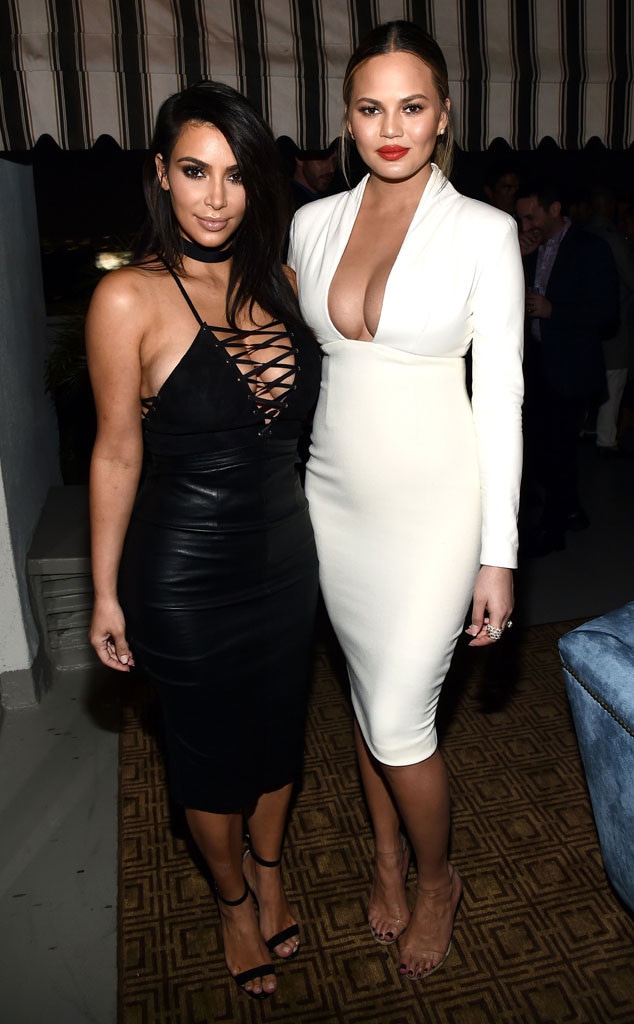 Michael Buckner/WWD/REX/Shutterstock
Kim Kardashian and Chrissy Teigen have become one of Hollywood's most talked about gal-pal duos, but how did it all start?
The pair—who have attended one another's weddings, helped each other through pregnancies and continue to support each other through all the ups and downs of life—met where most friendships blossom: the bathroom.
As part of her "Inner Circle" chats, Kim took to her app to reveal her first encounter with Chrissy. "The night Chrissy and I first met, we bonded in the bathroom while she helped zip me up," the reality star wrote. "We became good friends pretty fast after that, LOL!"
Then, in a video that featured the ladies sitting together on a couch and chatting, Chrissy recalled that they were at STKA with Reggie Bush (Kim's boyfriend at the time). "I remember this because I was so nervous to meet you," the model continued. "I don't know. I'd been watching. I knew all about you. I felt kind of like a weirdo."
However, once they talked in the bathroom everything changed. "You made me feel so much better because we went to the bathroom and you had me zip you up. [I was like] 'Oh my gosh! She has spanx on. She's cool. She's normal.' Yeah I remember that pretty well for some reason."
Fast forward more than 6 years and the two remain good friends, having created tons of memories together...some not as great as others.
Denise Truscello/WireImage
In fact, Chrissy revealed one of her craziest memories regarding Kim. "John [Legend] and I got in the biggest fight at Kim and Kanye [West]'s wedding...That you've ever seen in your whole life."
Funny enough, Kim and 'Ye got in a fight over Chrissy and John's wedding, too. "Wait, I got in a fight with Kanye during  your wedding," Kim added. "I didn't go...[North] was just born and I was so fat, and I had nothing to wear so he kept texting me: 'Babe, this is the most beautiful wedding,' 'Babe, this is so pretty. I wish you were here.' Literally a play-by-play text...We got into the biggest fight. [I was like,] 'Just stop texting me. Go enjoy the wedding, you're making me feel so bad!'"
And then, of course, there have been many wonderful moments, including their time together as mothers. "I think it's brought us closer," Kim said. "Because when you're a mom and you figured it out, you want to tell all your friends."
Chrissy added, "Everyone knows this. You helped us find the doctor for IVF and a lot of the same things...you taught me everything."
For more from Kim, make sure to tune into Keeping Up With the Kardashians, Sunday at 9 p.m., only on E!
Watch:
Kim Kardashian West on Post-Pregnancy Weight Loss