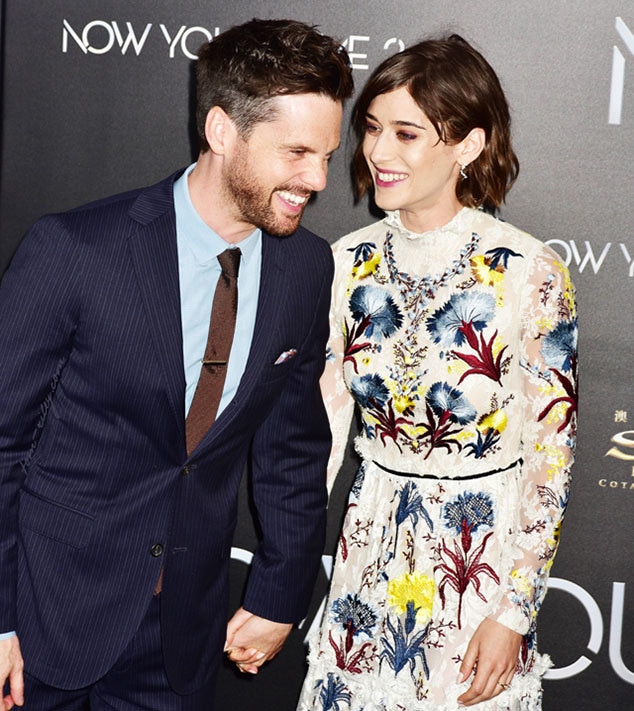 From mean girl to engaged girl, Lizzy Caplan is officially a bride-to-be. 
Less than six months after making their official red carpet debut as a couple, the Masters of Sex star and her boyfriend Tom Riley are engaged, E! News can confirm. 
The 34-year-old actress was spotted with her arm wrapped around her fiancé while on a grocery shopping trip in Los Angeles Friday, though it was what was on her finger that caught everyone's attention. The Emmy Award nominee was sporting a diamond ring on her left hand, raising questions about whether or not her actor beau had popped the question. 
According to the actress' rep, Riley did ask the Mean Girls star to be his wife in May in New York City. While they met in London where Caplan was filming in January 2015, the duo first confirmed their burgeoning romance a year later by arriving to the the 2016 Prague Opera Ball hand in hand.
Months earlier, the couple sparked rumors of a relationship when Riley shared a photo of himself holding hands with a mystery brunette as they jumped off a boat into the waters of Capri, Italy. 
While Caplan is ready to take the plunge with her future husband, there was a time when she wasn't so keen on the idea of even dating an actor. 
"I actually romanticize the idea of a stay-at-home dad," she told Elle Canada in 2014. "Partly because I think that's a very sexy thing, but also because if there are two working actors and both of them get a job and they have a baby, the woman is going to stay with the baby. I see it all the time. It just seems very unfair."
While Lizzy has plenty of time to figure out equal parenting, she definitely is about to marry an actor. Riley, 35, appeared in the television series DaVinci's Demons and is slated to star on Amazon's The Collection come fall. It will be a busy September for the engaged pair as Caplan is also expected to hit the small screen for the fourth season of Masters of Sex.
Caplan isn't the only Mean Girls alum to get engaged this year. Her on-screen BFF Damian Daniel Franzese asked his partner, Joseph Bradley Phillips, to marry him on Monday. 
Congratulations to both happy couples!
Watch:
Lizzy Caplan Talks "Masters of Sex"