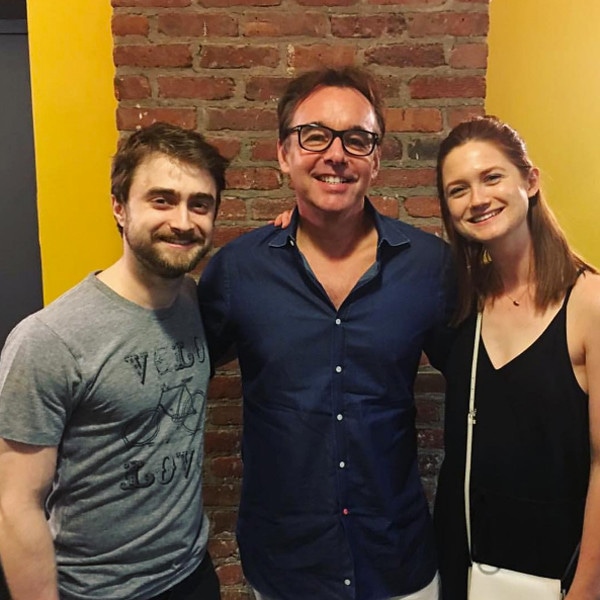 Instagram
Reunion alert!
Harry Potter and Ginny Weasley, a.k.a. Daniel Radcliffe and Bonnie Wright, reunited Thursday night, and it is everything. Harry Potter fans know that these two ultimately end up together in the series after several trials and tribulations (read: near-death experiences), and it looked like Wright returned the favor by supporting Radcliffe at his off-Broadway play, Privacy.
Joining Wright was the director of the first two Harry Potter films, Chris Columbus, so it really was a miniature family reunion! Fortunately, Wright snapped a picture and shared it on Instagram where fans could freak out with excitement. "Reunion! Congrats Dan on another stellar performance," she captioned the picture. "Google is terrifying and I'm now scared to use my phone. Can say no more. Go see Privacy!"
"Omg GINNY AND HARRY," wrote one fan.
"I LOVE YOU GUYS SO MUCH," wrote another.
As for whether there will be more Harry Potter reunions in the future for Radcliffe, well, that remains to be seen. Would he ever be willing to don his Hogwarts robes one more time? It's not out of the question. 
"The circumstances would have to be pretty extraordinary," Radcliffe said in an interview with the Radio Times. "But then I am sure Harrison Ford said that with Han Solo, and look what happened there."
Ford famously retreated from the Star Wars universe until he made a grand return in Episode VII, and now Radcliffe will be taking a page out of the actor's book. "I'm saying 'no' for now but leaving room to backtrack in the future," he explained.
In order not to get anyone's hopes up, he clarified that it would "depend on the script."
So you're telling us there's a chance!