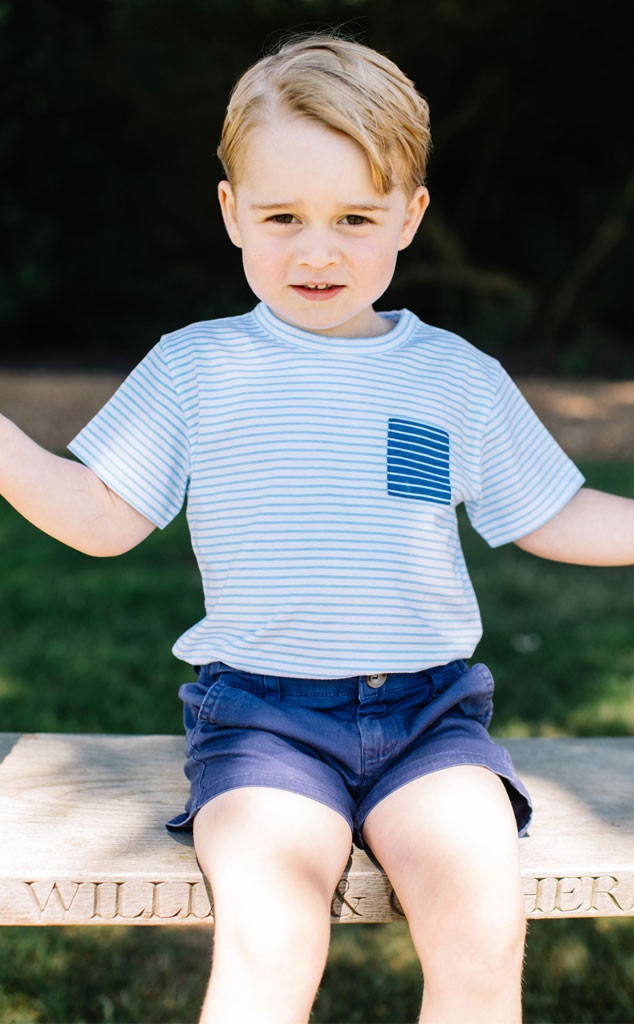 PA Images/Sipa USA
All grown up!
Prince George looks dapper in new portraits released by Kensington Palace in honor of his third birthday. The tiny tot, who turns three today, looks like a handsome young gentleman in three new photos taken at Amner Hall, Prince William and Kate Middleton's country home. In the first picture, Prince George looks like a miniature version of dad Wills while sitting on a swing staring right into the camera. He's wearing an adorable light blue shirt with dark blue shorts—a classic look for a young royal.
In the second picture, George is standing on top of the wooden swing, which romantically has "William and Catherine" etched into it, staring off into the distance. Shoeless but smirking, Prince George could be looking right as his parents as he plays around on the swing. According to the Daily Mail, the swing was a wedding present gifted to the royal couple. 
In the third and final photo, the birthday boy gets down on one knee to feed Lupo, the family dog. Both on a picnic blanket, Prince George and Lupo look like best friends, though who could blame the dog for wanting whatever Prince George is offering!
"Can't believe it's been three years already!" Kensington Palace tweeted. The Palace also released a statement on behalf of the Duke and Duchess of Cambridge. "The Duke and Duchess of Cambridge are delighted to share four new photographs of Prince George to mark his third birthday. They were taken by photographer Matt Porteous at their home in Norfolk in mid-July. The Duke and Duchess hope that people will enjoy seeing these new photographs. They would like to thank everyone for all the lovely messages they have received as Prince George celebrates his third birthday."
For the final photo, Prince George switched up outfits. Instead of his blue getup, the three-year-old royal dons khaki-colored shorts and a beige and blue striped sweater with a blue whale on it. Even though little kids might become fussy at the idea of standing still for photos, it's clear Prince George looked just fine! Porteous also shared in a statement that the new pictures were taken in a "very relaxed and enjoyable atmosphere" and that he was "honored" they were being shared.
Happy birthday, Prince George!