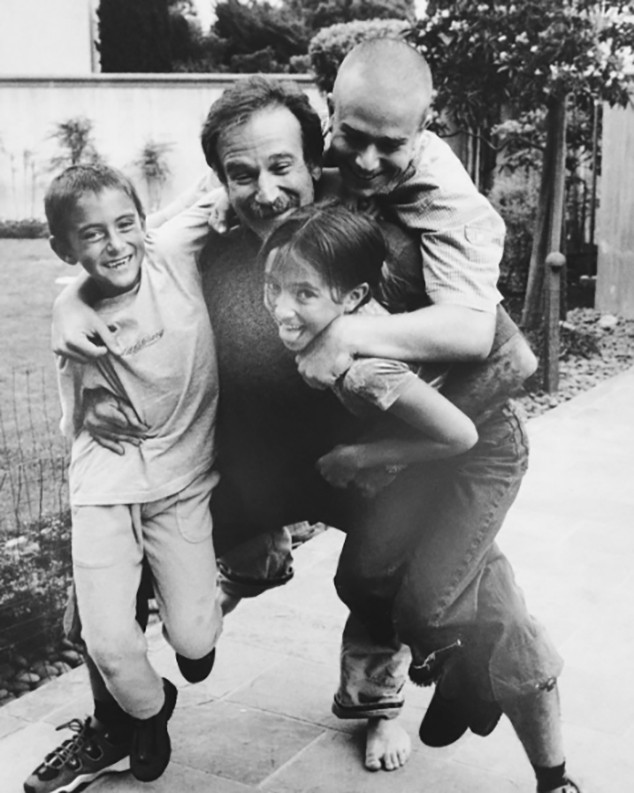 Instagram
Today would have been Robin Williams' 65th birthday, and his daughter, Zelda Williams, is honoring him in the most touching way.
Taking to Instagram to share a heartwarming throwback photo of the late actor with his children, Zelda shared in the caption that she donated to "three causes you cared about in one" because she couldn't give him a birthday present. "Still not really sure what to do on days like today… I know I can't give you a present anymore, but I guess that means I'll just have to keep giving them in your name instead," she captioned the black-and-white family photo.
"This year, I tried to help three causes you cared about in one; rescue dogs, people suffering from disabilities, and our nation's wounded veterans, so I donated to freedomservicedogs.org," she continued. "They rescue pups from shelters and train them so that they can be paired with someone in dire need of their help and companionship. Thought you'd get a kick out of furry, four legged friends helping change the world, one warrior in need at a time. Happy birthday Poppo. Shasha, Zakky, Codeman and I all love you and miss you like crazy. Xo."
Ever since the beloved comedian died in 2014 by suicide, his three children have taken it upon themselves to help continue Robin's charity work with the Challenged Athletes Foundation and St. Jude. Zelda also honored her late father by getting a hummingbird tattoo after he died.
Zelda has spoken out about depression and mental health before, often sharing the story of her personal struggles. "I came to a realization this year that I feel compelled to share here, for whomsoever may need it: Avoiding fear, sadness, or anger is not the same thing as being happy. I live my sadness every day, but I don't resent it anymore," she explained in an Instagram post. "Instead, I do it now so that the wonderful moments of joy I do find are not in order to forget, but to inhabit and enjoy for their own sake."
She continued, "It's not easy. In fact, I'd say it takes much more effort to consciously do than it does to just stay sad, but with my heart, I cannot tell you how worth it it is."