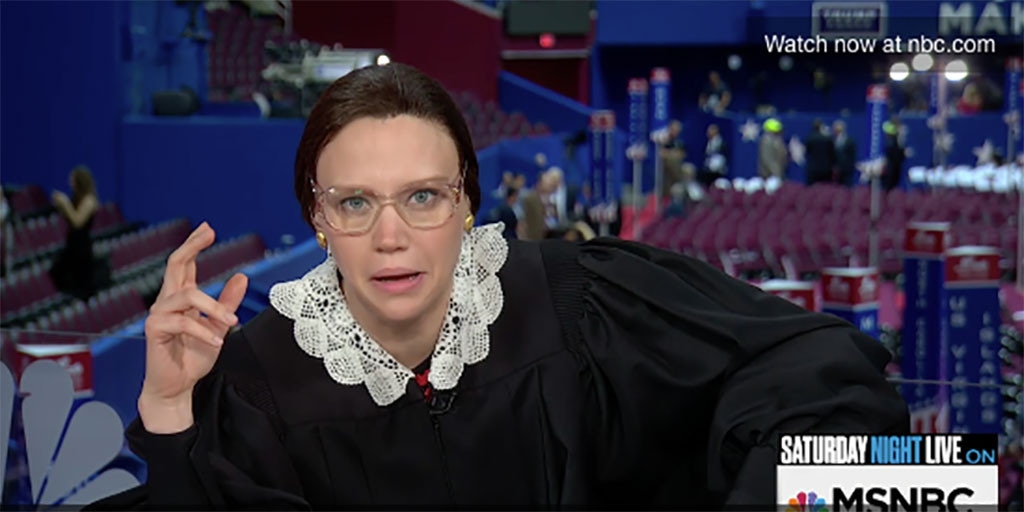 Twitter
Kate McKinnon has many faces, but there was only one fitting for the Republican National Convention. 
On the third night of the highly anticipated political event, the SNL comedian joined her co-star Colin Jost for a unique edition of Weekend Update on MSNBC. While her counterpart looked like his usual self all suited up behind the makeshift news desk, McKinnon donned a unique get-up fit for an evening of political spectacle—that of Supreme Court Justice Ruth Bader Ginsburg. 
In real life, the 83-year-old justice got into a bit of a verbal sparring match with Republican presidential nominee Donald Trump when she told The New York Times that if her husband was still alive and saw a Trump presidency, he would say it's "time for us to move to New Zealand."
As interviews followed, Ginsburg further asserted her opinion of the real estate mogul, telling CNN that Trump was a "faker." Trump shot back on his favorite social media platform, Twitter, writing in part, "Her mind is shot - resign!" Ginsburg later issued a statement expressing her "regret" for the remarks. 
Meanwhile, the Supreme Court justice may have just gotten the last laugh in this brief scandal when McKinnon arrived as a faux version of the notorious RBG to take aim at the presidential hopeful and his colleagues—including vice presidential contender, Governor of Indiana Mike Pence, and Trump's political surrogate, Governor of New Jersey Chris Christie. Let the Gins-burns begin!
"If my mind is shot then Donald Trump's mind is shot, stabbed, strangled, put in a vat of wet cement and dumped in the Gowanus Canal," she began. "His mind is sleeping with the fishes, but it's waking up to a Ginsburn."
Next, it was Pence's turn. "I rode here on a dog," McKinnon told Jost. "His name's Mike Pence and he just got Ginsburned."
Before her time was up, she had one insult saved up for the New Jersey frontman. "Chris Christie on the Supreme Court? I'd rather have an empty chair than a broken chair," she verbally slammed. 
Why all the insults? "I don't know how much time I've got left, Colin. I gotta get my pokes in while I got a chance."
Watch:
Kate McKinnon Talks Playing Hilary Clinton on "SNL"