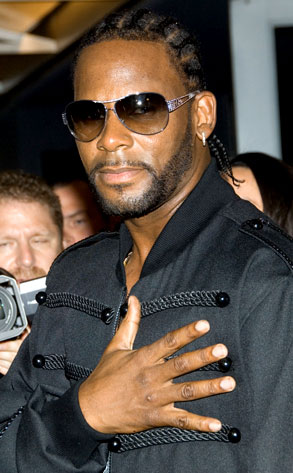 Lawrence Lucier/Getty Images
It's been easy to forget that R. Kelly also had a crumbling marriage to deal with over the last year.
But nevertheless, as of today, the R&B star, whose full name is Robert Kelly, is officially divorced from his wife of 11 years, Andrea Kelly, according to a joint statement released by their attorneys.
"The parties have reached an amicable resolution concerning all issues related to their marriage and will share joint custody of their three children," the lawyers said in announcing that a judgment for a dissolution of marriage was entered Thursday.
"The details of this agreement will remain confidential and the family requests that their privacy be respected during this time."
The Kellys swapped vows in 1996. They have two daughters, Jaya and Joann, and a son, Robert Jr. This was R. Kelly's second marriage, counting his five-month union with a then 15-year-old Aaliyah, which was ultimately annulled in February 1995.