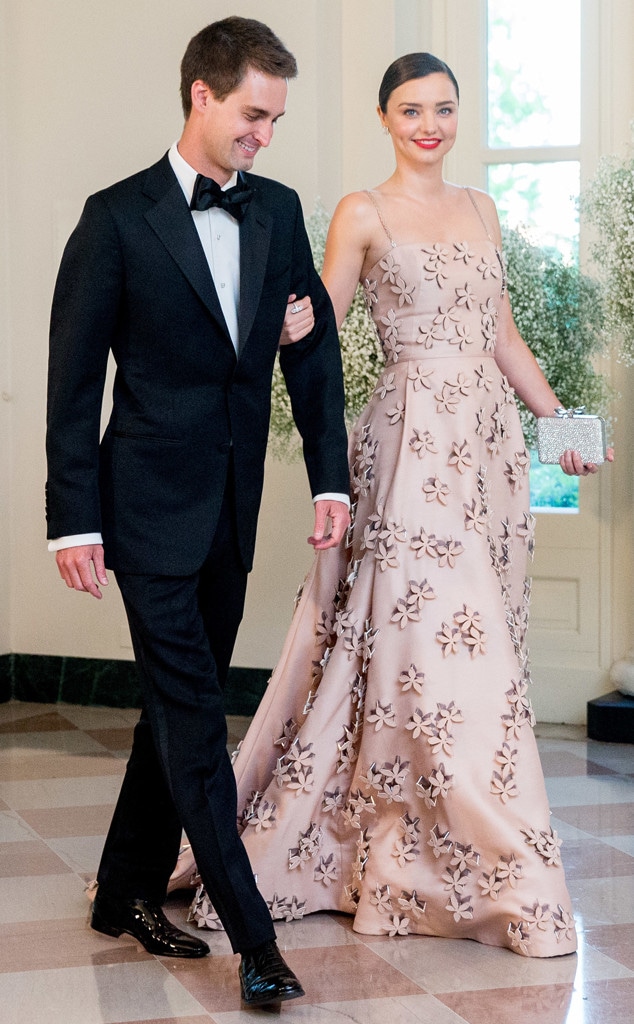 AP Photo/Andrew Harnik
Miranda Kerr and Evan Spiegel are ready for the most important merger of their lives.
The Victoria's Secret Angel turned beauty mogul and the billionaire co-founder of Snapchat are engaged, Spiegel popping the question and Kerr sharing the happy news via—what else—social media this morning.
"I said yes!!!" the 33-year-old model captioned a pic of her new sparkling diamond ring, overlaid with a bitmoji proposal and a "Marry Me!" graphic.
Ah, 21st-century romance…
This devoted couple, who met in 2014 and started dating in June 2015, may not have been an obvious one on paper, but sources have told E! News since the beginning that Kerr and Spiegel bonded fast and looked entirely comfortable together from the start.
Last summer Kerr brought Spiegel to a VIP party and happily introduced him to her friends. Neither was shy about packing on the PDA in front of the small A-list crowd, either.
"They felt very happy and at ease," said one of the attendees at the time. "Everyone very quickly got the message, they both seem smitten."
And while you might think Spiegel is all tech, all the time, he's most particular about aesthetics (he told GQ that he's into flower arranging, particularly English garden roses) and style (James Perse white V-necks, Patrik Ervell black jeans and white Achilles Common Projects sneakers are among his go-tos).
Let's see, we wonder if Kerr is much into style…
"They've fallen hard for each other and are really in love," an insider told E! News just months into their relationship.
This will be the first marriage for Spiegel, 26, and the second for Kerr, 33, who's mom to 5-year-old son Flynn with ex-husband Orlando Bloom.
Not long after she and Bloom split up in 2013, she was briefly linked to Australian business tycoon James Packer (Mariah Carey's soon-to-be husband), and she even ended up sharing headlines, if not an actual relationship, with Justin Bieber.
"James and I are friends, but people want to make a story, the public want to put me with someone," Kerr told Vogue in August 2014, hoping to clear the air. "I know the truth, I am single, and the people that are important to me know the truth and that is all."
But then she met Spiegel and, though it took a while for them to actually get together, she would be single no more after that.
And Spiegel's lack of any sort of public romantic history probably appealed to Kerr. In fact, according to a Spiegel source, it was his decidedly non-Hollywood vibe that attracted Kerr to him in the first place.
Imeh Akpanudosen/Getty Images for Republic Records
"Miranda loves how down to earth and brilliantly smart Evan is," the source said. "They have incredible conversations and can talk about anything. He comes from a wonderful close-knit and loving family and that was a real draw to her."
Spiegel was born in Los Angeles to lawyer parents; went to high school at Crossroads, an exclusive haven for the well-heeled and super-smart; and then attended Stanford, though he dropped out before graduation to focus on Snapchat. The photo and video-sharing app that specializes in fleeting moments was most recently reported to be worth about $20 billion.
Spiegel himself is said to be worth $2.1 billion, according to Forbes. Source of wealth? "Self made."
But money hasn't messed with his personality, according to those close to him.
"He's just so nice, very normal," one insider said. "You would never know about his money. He is really down to earth."
Kerr, who hails from Australia, met and spent time with Spiegel's family early on, feeling "very welcomed and accepted," a source said.
Even more importantly, Spiegel gets on equally well with Kerr's son.
"Evan is really great with Flynn and they bonded instantly," the source said. "Evan gets down on the floor and plays with Flynn and is very fun and creative. That's so important to Miranda and a quality that really stands out about Evan."
Spiegel may be down to earth and happy to get down on the floor to play, but you bet that he and Kerr still enjoy the spoils of their hard work, whether they're cuddling on the beach in Corsica or hitting Clive Davis' pre-Grammys party in L.A.—which served as their red carpet debut as a couple in February.
And since both have been based in Southern California, they were logistically able to spend lots of time together—not a small feat in their respective businesses.
"They hang out all over the Westside and love being close to the beach," says a source, who noted that they enjoy local, normal activities such as shopping at the Palisades Farmers Market, going to the Malibu Pier and having dinner on trendy Abbot Kinney Boulevard in Venice. "They also love spending quiet weekends together at home hanging out and ordering takeout or watching movies."
All signs pointed early on to their relationship going the distance—and that's exactly what has happened. "Things are moving quickly and getting very serious. He's crazy about her and thinks she's the most kind-hearted, beautiful girl in the world," the source adds.
While we wouldn't call Spiegel and Kerr a simple couple in any way, they prove that when it works, it just works. Simple as that.
For the latest details on Miranda Kerr and Evan Spiegel's engagement, tune into E! News tonight at 7 & 11 p.m.