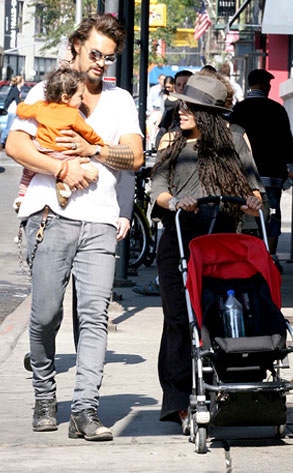 INFphoto.com
Jason Momoa used to going through a Stargate. Now he's going over the moon.
The Stargate Atlantis weapons whiz and his longtime companion, former Cosby kid Lisa Bonet, are celebrating the birth of their new son.
Nakoa-Wolf Manakauapo Namakaeha Momoa was born Dec. 15, according to Bonet's agent, Tracy Christian.
The birth was first announced by Momoa's mom on the fan forums of his official site. She said that Nakoa means "warrior" and Mana stands for "strength/spirit," while Kaua ("rain") and Po ("dark") pertain to the circumstances surrounding his birthday (he made his debut on a rare bad-weather night in L.A.). He shares his other middle name, Namakaeha, with his dad.
The newborn joins a brood that includes sister Lola Iolani, 17 months, and Zoë Isabella, 20, Bonet's daughter with Lenny Kravitz.