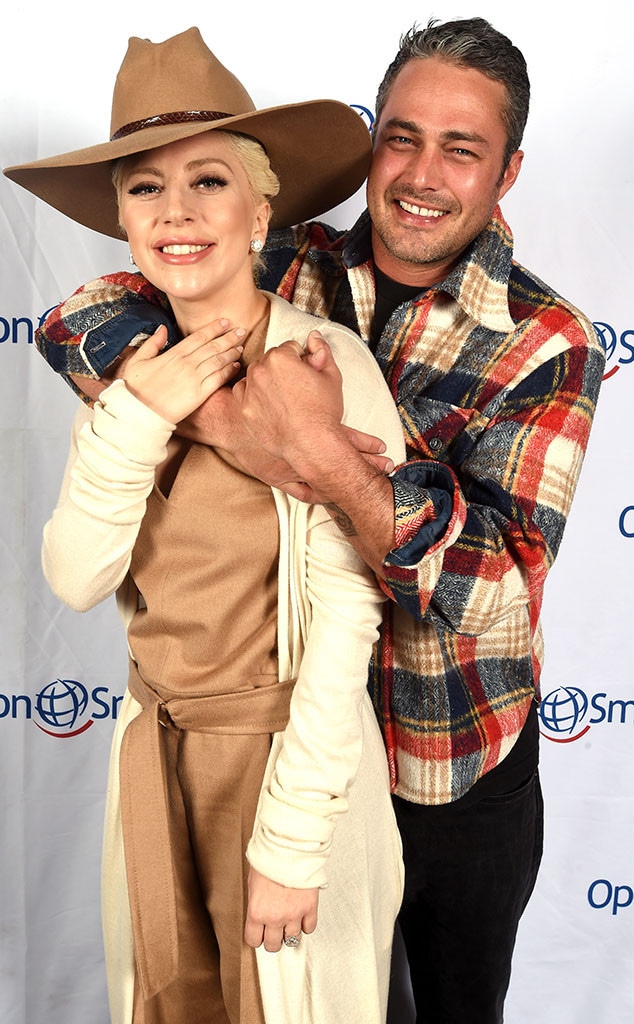 Courtesy of Operation Smile
The sparks have run out for Lady Gaga and Taylor Kinney.
In case you missed the big Hollywood couples story of the day, the "Poker Face" singer and Chicago Fire star have called off their engagement and broken up after nearly five years together.
"They want to keep it private," an insider shared with E! News. "It's heartbreaking."
And while the split is understandably upsetting to fans of the couple—especially loyal Fame Monsters—we can't help but acknowledge all of the good times the pair shared during their romance.
From unforgettable birthday celebrations to a special engagement, it's safe to say a majority of this relationship wasn't exactly a "Bad Romance."
July 2011: There was an instant connection when the pair was introduced on the set of Gaga's music video for "You and I." Taylor played Gaga's man candy in the six-minute long music video that now has more than 96 million views on YouTube alone. "We had a good time. I think there was chemistry," Taylor once shared on Watch What Happens Live. "I remember it was a late shoot. We were shooting until 4 or 5 in the morning or something like that. We exchanged information. A few weeks went by and we kept in touch, and then that's that."
December 29, 2011: After months of speculation and presumed coupledom, the Hollywood pair finally went public with their romance. Photographers spotted the pair with their arms around each other as they enjoyed a walk in Southern California. 
August 7, 2012: Hot damn alert! In a picture simply captioned as "T and Me," Gaga was spotted skinny-dipping with her boyfriend in a cerulean blue pool. For those who don't recall, Gaga played a mermaid in her electric music video for "You and I." Clearly, love must have been in the water.
December 26, 2013: The "Do What U Want" singer told Fashion magazine that even though the journey has been "hard," she has "found love" with Taylor. "When you meet someone that's not intimidated by the amazing people that are around you [or] by the love that you receive—that's love," the Grammy winner told the publication. "Men weren't always happy for me. It was very challenging to watch a woman be so successful."
December 7, 2014: In a rare joint red carpet appearance, the couple turned heads at the 37th Annual Kennedy Center Honors in Washington, D.C.
February 16, 2015: He put a ring on it! Two days after one of the most romantic days of the year, the singer announced she was engaged with a photo of a heart-shaped diamond engagement ring. "He gave me his heart on Valentine's Day and I said YES!" she wrote.
February 25, 2015: Shortly after getting engaged and stealing the 2015 Oscars with her tribute to the Sound of Music, Gaga stopped by the set of Chicago Fire and Chicago P.D. to celebrate her new relationship status. "#wcw @LadyGaga, naturally. She SLAYED the #Oscars and now she's snuggled up with the #ChicagoFam celebrating love," Sophia Bush captioned on social media. "'The Oscars were amazing, but this!? This is everything. Oh #TaylorKinney you're a lucky man!! #Love #Congrats."
January 8, 2016: How's this for an unforgettable cover? Who can forget when the couple posed on the floor naked for V Magazine, which is covered by a paint canvas. "Since we first met, Taylor's been drawing and painting all over me," Gaga wrote in her editor's letter for the issue. "Years ago, when we were secretly living in San Diego and crashing on the floor of a beach shack, we never wore shoes. He told me he wanted to make love to me on a canvas." Spoiler alert: his dream came true.
March 26, 2016: The pop star celebrated her birthday at the No Name club in Hollywood with Taylor. A source shared with E! News that the couple packed on the PDA during the celebration. Taylor Swift even stopped by for a special performance. Kate Hudson, Chrissy Teigen and Nick Jonas were also in attendance for the star-studded bash.
July 19, 2016: Multiple sources confirm to E! News that the Hollywood couple called it quits. Last week—on Taylor's birthday—his fiancée was photographed without her engagement ring. When she performed at an orphanage in Mexico earlier this week, the ring was again missing. Both parties have not commented and it's unclear who initiated the split.