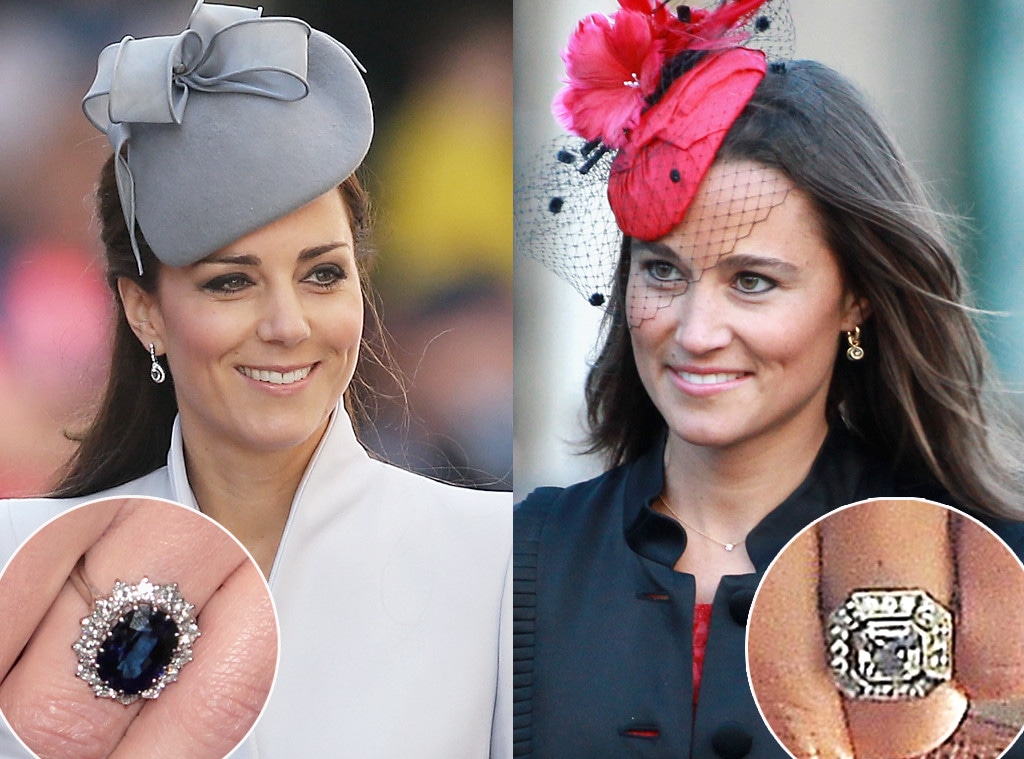 FameFlynet/Getty Images
Pippa Middleton is officially a bride to be!
Kate Middleton's younger sister is engaged to James Matthews, which means not only are we set to get another fabulous wedding but we're also getting glimpses at Pippa's stunning (read: huge) engagement ring. It appears that James proposed to Pippa with a gorgeous Asscher-cut stone that's surrounded by a halo of smaller round-cut diamonds. The ring has a very vintage, art deco feel, which while gorgeous, couldn't be more different from the ring Kate received from Prince William.
Los Angeles Jeweler Adam Campbell tells E! News that Pippa's ring, "looks about 3-4 carats. I'd say 3.5. Looks very clean. Seems to be an octagonal Ascher-wrapped step-cut with round brilliance set in platinum." 
 
As for the price tag on a beauty like that? Campbell tells us, it "could be anywhere from $45,000 to, highest I'd say would be, $175,000. It really depends who is selling it."
Kate's ring, of course, has history behind it. The classic sparkler was first purchased by Prince Charles in 1981 and given to Princess Diana, Wills' mother. A 12-carat sapphire, Kate's engagement ring also features a halo, specifically 14 diamonds. Both Kate's and Pippa's rings feature these sparkly borders, which might be the only similarity between the two impressive pieces of jewelry.
As for Kate's wedding ring, she wears a simple band made of Welsh gold. According to a joint statement from Pippa and James, they got engaged on July 17 and are planning a 2017 wedding, so we'll have to wait until then to see what Pippa goes with in terms of wedding band. Will it match her art deco engagement ring? Will it be a simple band to balance? The possibilities are endless!
But one thing is for certain: the world's most famous bridesmaid has the love and support of her family. "The Duke and Duchess of Cambridge are absolutely delighted with the news," a Kensington Palace spokesperson said in a statement. Pippa's father, Michael Middleton, also released a statement Tuesday, saying, "Carole and I are absolutely thrilled with the news. They make a wonderful couple and we wish them every happiness together."
Congratulations again to the happy couple!
—Reporting by Sara Kitnick