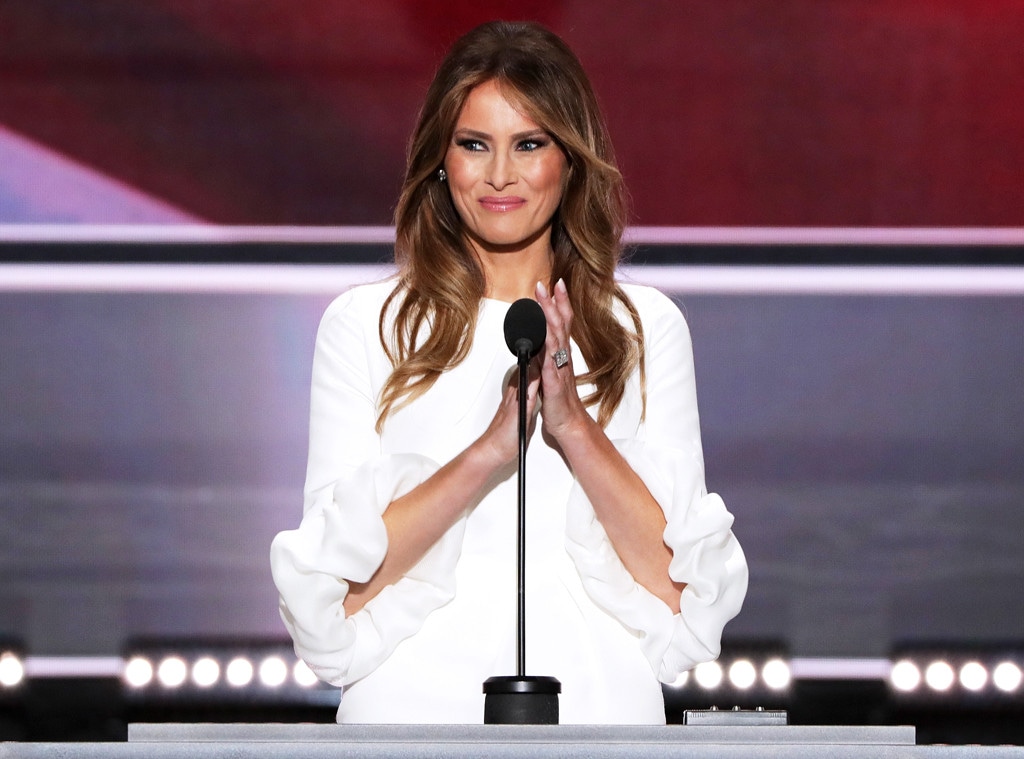 Alex Wong/Getty Images
Now that's how you make a fashion and political statement.
Presidential candidate Donald Trump's wife Melania Trump took the podium tonight on the first night of the Republican National Convention in Cleveland, marking one of the first times we've heard the potential First Lady speak on the election.
And while the 46-year-old did an impressive job with her delivery during the speech, she also killed it in the fashion game, which is one she definitely knows how to play.
Melania walked out in a cotton silk off-white Roksanda "Margot" dress with bell sleeves, which is described as a "beautiful option for the modern bride," with Christian Louboutin heels, which was the perfect balance of chic and elegant.
Although one would be quick to assume that Trump's lady was assisted by a stylist for her big night, a spokesperson for Melania tells E! News, "She doesn't have a stylist. She has excellent taste. She simply liked the dress and purchased it."
The price tag on the high-fashion retailer site lists the ivory dress at $2,190 (and is also available in black), but if you're planning to cop yourself a frock, you're out of luck. It's already sold out.
Chip Somodevilla/Getty Images
Aside from speaking highly of her husband, the Slovania-born model spoke about her upbringing and what values she'd hope to bring with her as FLOTUS.
"From a young age, my parents impressed on me the values that you work hard for what you want in life; that your word is your bond and you do what you say and keep your promise; that you treat people with respect," she said to the crowd.
"They taught and showed me values and morals in their daily life. That is a lesson that I continue to pass along to our son, and we need to pass those lessons on to the many generations to follow."
She later continued, "My husband offers a new direction, welcoming change, prosperity and greater cooperation among peoples and nations. Donald intends to represent all the people, not just some of the people. That includes Christians and Jews and Muslims, it includes Hispanics and African Americans and Asians, and the poor and the middle class.
"Throughout his career, Donald has successfully worked with people of many faiths and with many nations. Like no one else, I have seen the talent, the energy, the tenacity, the resourceful mind and the simple goodness of heart that God gave Donald Trump."
Watch:
Robert Redford's Movie Idea for Donald Trump