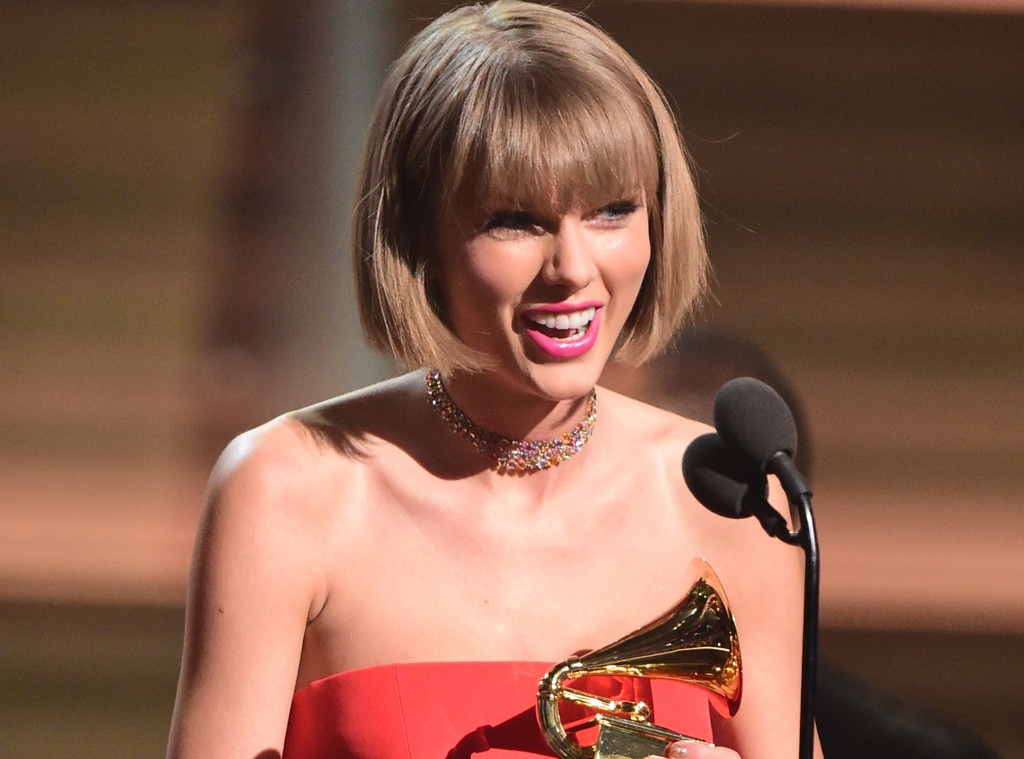 ROBYN BECK/AFP/Getty Image
In case you went to bed last night unaware that Kim Kardashian had successfully commandeered social media in order to stand by her man with a vengeance, surely you've been brought up to speed by now.
But if not, in brief: After the newest episode of Keeping Up With the Kardashians featured Kim voicing her annoyance at Taylor Swift (who had railed against Kanye West at the Grammys for what he rapped about her in "Famous"), Kim broke down one of those walls that really no longer exists between TV, Internet and the public and posted to Snapchat the recording (that she had insisted was in existence) of Kanye discussing the song with Taylor.
And Taylor sounded into it—delighted, in fact, at the idea of pulling one over on the media who would surely question whether Kanye and Taylor were feuding once again.
If it hadn't been before, the true purpose of GIFs was made clear last night.
But it didn't take long before Taylor had posted a statement pointing out that Kim's gotcha moment didn't include Taylor being OK with Kanye rapping "I made that bitch famous."
As far as anyone could hear on the recording, he didn't run it by her and she objected to it. Rather, he didn't mention it at all, and what Taylor was tickled by was the "I feel like me and Taylor might still have sex" line that precedes "Why? I made that bitch famous" in the song.
"You don't get to control someone's emotional response to being called 'that bitch' in front of the entire world," Taylor stated last night.
Kim thinks Taylor's reaction to that line all of a sudden is "so stupid," a source told E! News. "[Taylor] says the word 'bitch' bothered her but on the Grammys stage she never mentioned that. She said, 'Don't ever let anyone say they made you famous.'"
Has being angered by the B-word been a slow burn for Taylor, considering it's been five months since "Famous" dropped and time can change a person's perspective?
Kim pointed out in her recent GQ interview, the one in which she first declared that a recording existed of Kanye talking to Taylor, that her husband has called her a bitch too in verse.
"I mean, he's called me a bitch in his songs," she said, recalling Kanye's 2012 ode to Kim, "Perfect Bitch." "That's just, like, what they say. I never once think, 'What a derogatory word! How dare he?' Not in a million years."
Also a valid point, that Kanye wasn't necessarily singling Taylor out in a negative way with his use of the B-word, which is one of the more commonly used slurs in hip-hop, used for both men and women. Though interestingly, when it's directed at men, it's almost always a slight. And when it's directed at women... it can be good or bad or...neutral. Just another word because it's used so much.
"Bitch" is one of those bastardized words (just a female canine once upon a time, you know) that people have tried to take back as a show of strength, interchangeable with badass. Elton John declared that "The Bitch Is Back" all the way back in 1974. There are guides to life, such as Amber Rose's How to Be a Bad Bitch and financial journalist Nicole Lapin's Rich Bitch. Lena Dunham calls her fantasy feminist band B.I.T.C.H.
But everyone who enjoys hip-hop isn't tacitly endorsing the use of the word "bitch." Most people probably just aren't thinking about it that much, and why would they? If you've been listening to rap music since you were 9, or in the womb because your parents are fans too... it's just a part of everyone's culture now, yours, mine and ours. As Kim said, "That's just, like, what they say."
Or did Taylor, embarrassed by the release of the recording that proves she was complicit in the crafting of "Famous," pick out something new to distract from the revelation the twitterverse was salivating over? Her rep had originally said that Taylor had warned Kanye against sending a misogynist message and there's no recorded evidence that she had any concerns.
Taylor did make it clear at the Grammys that she took objection to the "made that bitch famous" line, at least as the sum of its parts, and that jives with what we know now—which is that Kanye discussed the "might still have sex" line with her beforehand but not the "famous" line.
Which Taylor noted in her statement. But the anti-Taylors of the Internet feel that Kim exposed the pop star in some way. And if you're having déjà vu, that's because the same thing happened just last week, when Calvin Harris went off on his ex-girlfriend, claiming she was trying to make him look bad by supposedly orchestrating the rumor that she was irremediably pissed at him for denying that they had worked together, when in fact she wrote the melody and lyrics of his latest hit, "This Is What You Came For"—even though she had agreed initially to keep her credit a secret so as not to overshadow Harris' accomplishment.
As it turns out, Taylor also had a preemptive arrangement with Kanye. And Kim told GQ that Taylor had tried to ensure that the recording never came out, a claim backed up today by TMZ, which obtained an alleged copy of the cease-and-desist letter from February in question.
So now Taylor is accused of being disingenuous, a scenario she is most certainly not used to on this scale.
Similar to the case with Calvin last week, one side isn't necessarily entirely wrong while the other is entirely right. Agreements that seemed like a good idea at the time can turn ugly in a flash, depending on all sorts of unpredictable factors, including which way the wind is blowing on Twitter on any given day.
Hindsight is 20/20. Snapchat only cares about what you're doing in the moment.
Watch:
Kim Kardashian's Snapchat Exposes Kanye's Call to Taylor