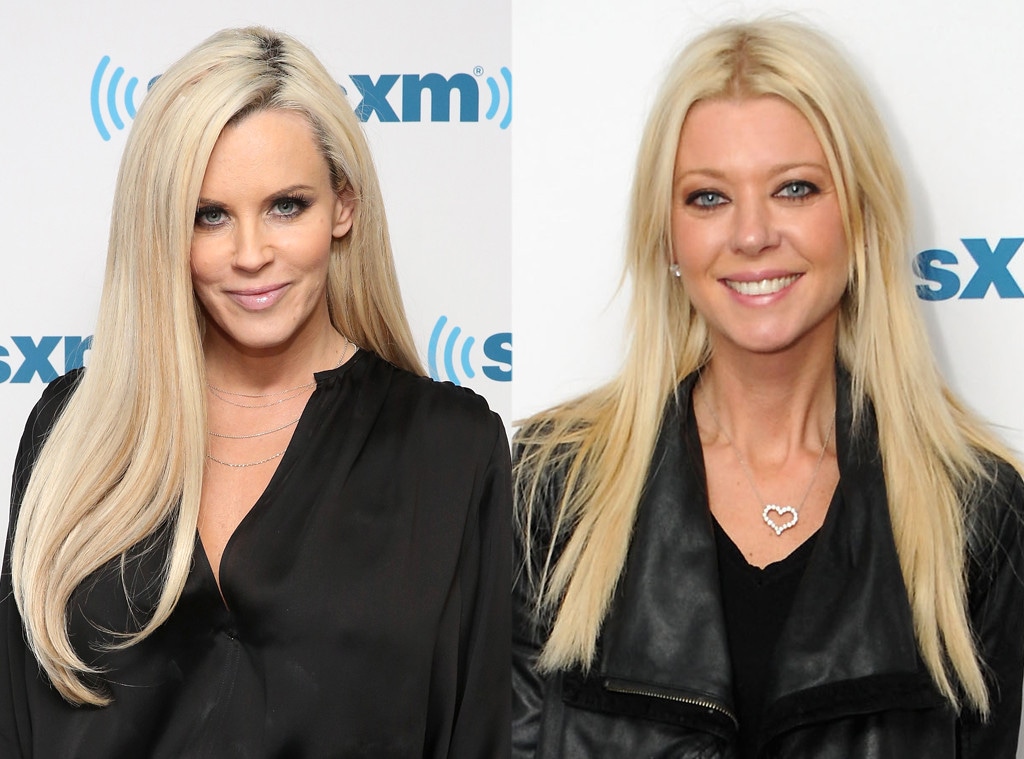 Andrew Toth-Robin Marchant/Getty Images
UPDATE: A rep for Tara Reid tells E! News, "Tara is a positive person who is against women tearing each other down. She was bullied on Jenny's and felt ambushed when she came into the show with a positive spirit and in a happy mood. It was very unfortunate how Jenny shifted the conversation for her personal gain when the whole focus should be on Sharknado 4." 
________
That escalated quickly. 
Just a day after Teresa Giudice stormed out of an interview with Access Hollywood Live, Sharknado star Tara Reid arrived to the set of Jenny McCarthy's SiriusXM radio show expecting to discuss her new film. However, when the questions turned to her latest gig on Marriage Boot Camp: Reality Stars and her past plastic surgeries, the star simply was not having it. 
The interview began cordially with McCarthy complimenting the 40-year-old actress for her appearances on the WE tv reality show. "I f--king love you on that show, but are you glad you did it?" As it seems, the question struck a nerve with Reid, who suddenly did not want to talk about the project. 
"It's not worth the time to talk about," she declared. When the host tried to press her with another question, Tara continued to deflect. "Babe, I asked you, please let's not talk about this show," she added. "We're all here about Sharknado." 
McCarthy obliged and shifted her questions to getting in shape for the fourth installment of the franchise. Still, Reid was audibly miffed. "It's not like you really need to get into shape. It's Sharknado. They're fake sharks," she said. McCarthy tried to clarify her question, explaining how Reid might have felt inclined to hit the gym to get into "muscle shape." Aside from weekly yoga, Reid said she did "nothing crazy, nothing strenuous."
On the topic of physique, McCarthy transitioned to questions about Reid's plastic surgery past. "People talked about your surgeries before. Are you still going through surgeries or are you past them?" she asked. 
"No, I haven't had any surgery for awhile, Jenny," Reid answered. Though Jenny hailed Tara for being open about her procedures in the past, there is a pause in the interview where it sounds like Tara suddenly is talking to someone else. 
"So, you're good and done, not moving forward with plastic surgery?" McCarthy continued, trying to smooth over the awkwardness. 
"I think I've made that clear about 100 times," Tara shot back. "Maybe you only read the bad things, but I've made that really clear for so many years." Before letting McCarthy response, she decided to get up and leave and the two women erupted into a verbal sparring match.  
"It was really nice talking to you and really good luck with your show," Tara said as she was leaving.  
"Good luck to you, too, and I'm so excited about Sharknado and I hope you stay married," McCarthy slammed back. "I hope your knees get a little wobblier than they already are."
"I hope your tits get even nicer, because they're amazing. The same guy who did mine, right?" Reid quipped. "I'll always use your advice. You're the best. Bye." 
The fight ended with one final insult from Jenny. "Love you, Tara. Good luck with Sharknado 18."
Watch:
Tara Reid Soaks in "Sharknado" Success