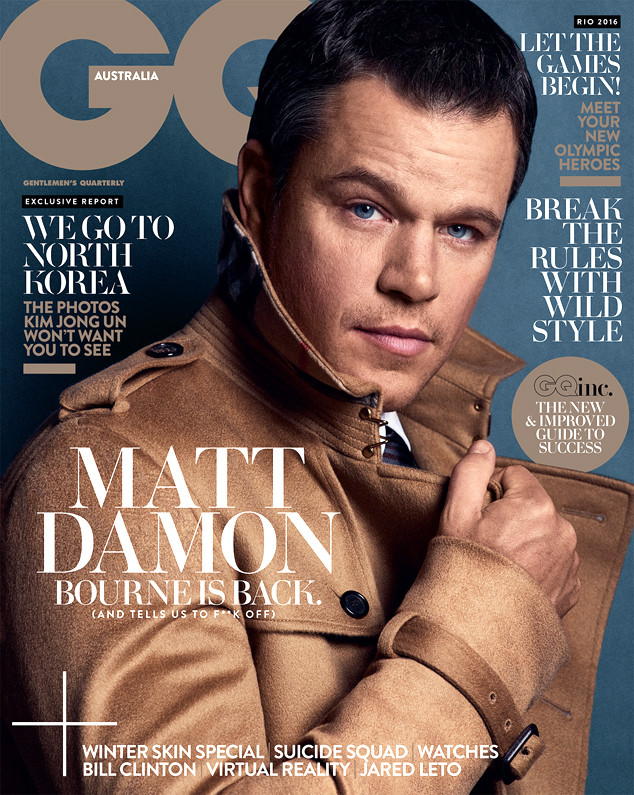 GQ Australia
James Bond and Jason Bourne may share the same initials and have similar occupations, but Matt Damon sees a world of difference between the two characters. In a recent interview for GQ Australia's August issue, the Jason Bourne actor made it clear which character he liked best.
"I like Bourne better than Bond," he said. "Bourne has today's values; Bond has the values of the 1960s."

Damon said that the new Bond, played by Daniel Craig, has brought the franchise into the present a bit more, but that classically Bond is a "misogynist who likes swilling martinis and killing people and not giving a s--t."
"Jason Bourne is a serial monogamist," Damon continued. "And he's tortured by the things he's done and feels empathy and compassion for other people...And Bourne would obviously win in a fight."
This isn't the first time Damon has discussed his views of the two characters. Ever since 2007, Damon has been bashing Bond for his attitude towards women and one-dimensional character. And it's hard to disagree when Craig himself called Bond out for his womanizing ways.
"Let's not forget that he's actually a misogynist," Craig told the Red Bulletin. "A lot of women are drawn to him chiefly because he embodies a certain kind of danger and never sticks around for too long."
But who's really the spy movie champ when it comes between Bond and Bourne?
Let's take a look at the two characters side by side to see who is the better action star: