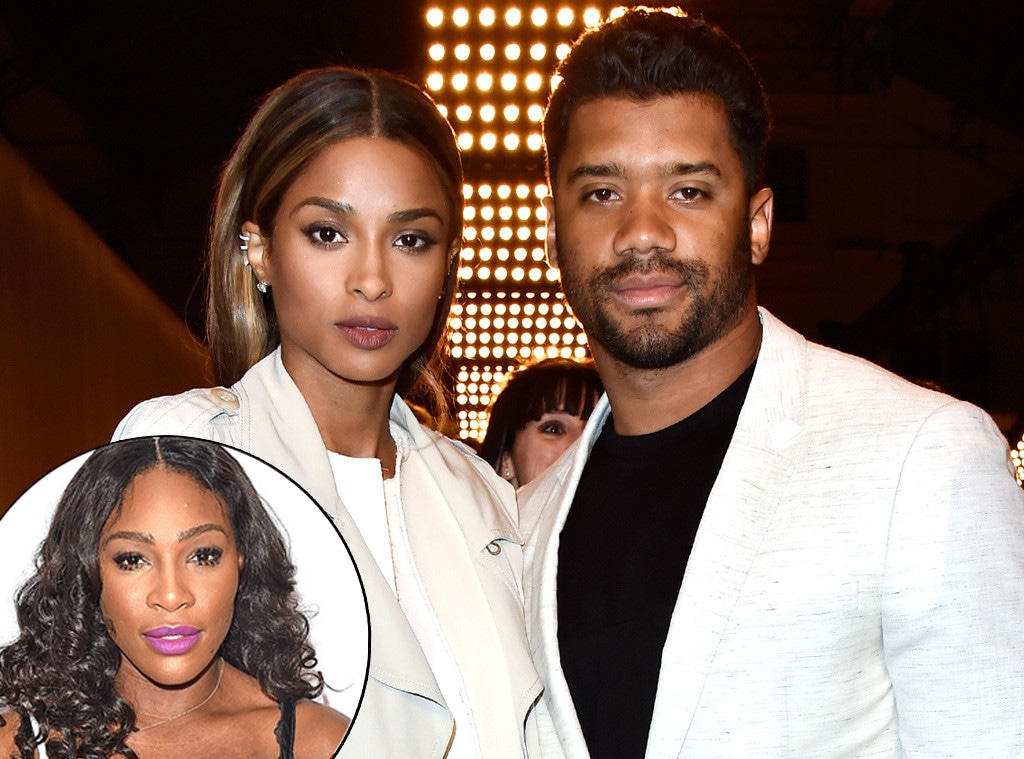 Getty Images
Ciara is officially down one bridesmaid.
E! News has learned that Serena Williams was forced to back out of her bridesmaid duties because of her Wimbledon semi-finals match. The happy couple has already started their celebrations in England, stepping out for their rehearsal dinner Tuesday evening with friends such as Kelly Rowland and Lala Vasquez.
"Serena really wanted to be part of Ciara's bridal party when she asked her a while back, but she knew work may conflict," a source tells E! News. "Ciara was understanding and knows Serena would be there if she could. They have spoken today and have FaceTimed each other, so it's like Serena is in the room with all the girls."
As the bride-to-be, Ciara donned a gorgeous, flowy white gown while her NFL star fiancé looked handsome in an all-black outfit. "The rehearsal dinner was beautiful. Ciara and Russell couldn't keep their hands off of each other," a source told E! News exclusively of the romantic affair. "The love was strong in the room. Russell and Ciara said a few words to their guests thanking them for coming to Liverpool for this special occasion. Kelly Rowland and Lala were helping Ciara before hand get ready and haven't left her side."
The Liverpool dinner featured 100 of the couple's closest friends and family. 
In June the "Love Sex Magic" songstress traveled to Las Vegas with Rowland, Williams and more of her gal-pals for a getaway trip before tying the knot. The dynamic group relaxed by the pool, danced in their bathing suits and grabbed some delicious meals. "We'z just having fun," Ciara captioned one of her Snapchat posts.
Wilson and Ciara started dating in April 2015 and got engaged less than a year later. The Seattle Seahawks quarterback shared the news with a video of his fiancée on Instagram. "She said yes! Yeah!" he proclaimed as the singer blushed and showed off her massive diamond sparkler.
"God Is Good! Grateful For You @DangRussWilson. You Are Heaven Sent. I'm Looking Forward To Spending Forever With You," Ciara also shared on social media. "I Feel Complete."
It will only be just a little while now before Ciara and Wilson officially begin to spend "forever" together. Let the countdown to the "1,2 Step" songstress' walk down the aisle begin!