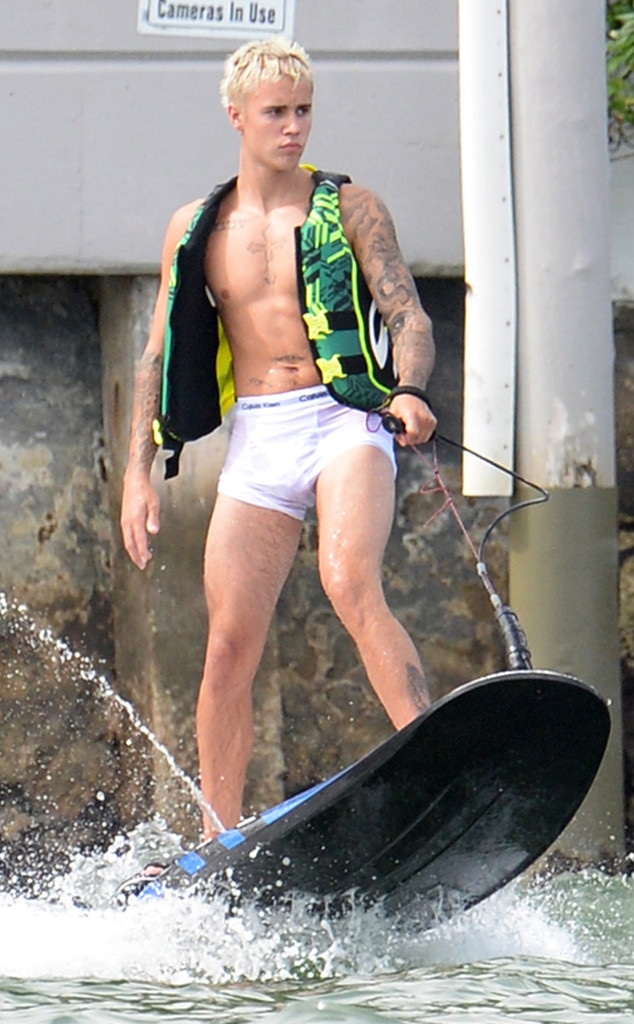 MiamiPIXX/VEM/INFPhoto.com/FAMEFLYNET
It looks like nothing can come between Justin Bieber and his Calvins—not even an afternoon of wakeboarding. 
While these photos may look like the makings of a Calvin Klein ad, chalk the wardrobe up to Bieber simply using underwear in lieu of swim trunks.
Hours before his July 3 concert in Miami, the Grammy winner opted for nothing more than his wet, see-through designer boxer briefs and a life vest while enjoying some fun in the sun ahead of the Fourth of July holiday. While Bieber had to be in Florida for his Purpose World Tour, the "Sorry" singer spent the afternoon by his yacht showing off his water skills in front of a group of friends, including Pretty Little Liars star Ashley Benson. 
"Not bad boys," he captioned two photos of himself riding steadily on the board. 
However, as fans certainly remember, this is not the first time the pop star has shown off his scantily clad behind. Last July, he stripped naked and posed for a photo on a boat with his bum facing the camera lens. While the shot immediately garnered over a million likes on Instagram, Bieber deleted it off of his account. 
"Hey I Deleted the photo of my butt on Instagram not because I thought it was bad but someone close to me's daughter follows me and she was embarrassed that she saw my butt and I totally wasn't thinking in that aspect," he wrote on Instagram. "And I felt awful that she felt bad."
"To anyone I may have offended I'm so sorry," Bieber continued. "It was completely pure hearted as a joke but didn't take in account there are littles following me!!! Love u guys."
Yet, by late March, he was back to his social media flashing ways, showing off his bare bum sans any undies while on a camping trip with pal John Shahidi. "Dat ass doe," Bieber described. 
MiamiPIXX/VEM/INFPhoto.com/FAMEFLYNET
Still, Bieber's height of public nudity came in early October 2015 when he was vacationing in Bora Bora. Photographers captured the star completely in his birthday suit while hanging out by the pool. 
Things got a bit more uncomfortable when Bieber's father Jeremy joked about the pictures—and his son's physical asset—on social media. "@justinbieber what do you feed that thing. #proud daddy," he joked at the time.
While the Twittersphere exploded into a frenzy over the photos and his father's subsequent comment, Bieber later explained how his dad's remark hadn't bothered him as much as his lack of privacy had. 
"I do feel the photo was an invasion of my privacy. I felt super violated. My dad made light of it, but I don't think that's sick and twisted. It was funny," he admitted to Billboard. "Dads are going to be dads."