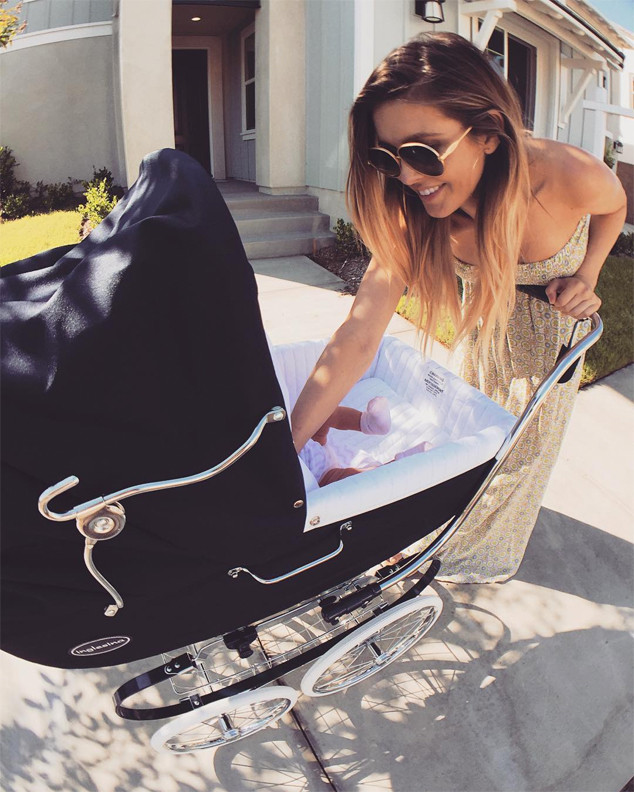 Instagram
Audrina Patridge is in "heaven on Earth" after welcoming her first child, Kirra Max Bohan.
The 31-year-old The Hills alum gave birth to her and fiancé Corey Bohan's daughter, their first child, on June 24. Patridge posted on her Instagram page late Friday the first public photo showing their little girl, whose tiny pink sock-clad legs and feet are shown peeking out of a pram as her mother dotes upon her with a radiant smile.
"Baby Kirra's first walk in her adorable pram," wrote the former reality star, who sports a strapless beige printed maxi dress and sunglasses.
"It's the three of us now & I wouldn't have it any other way," Corey said on his own Instagram page.
The pram is a $1,897 Inglesina Classica, which can be used for newborns as well as children up to 1 and 1/2 years of age.
Patridge also shared a blog post in which she talked about her delivery and becoming a mother.
"I am in heaven on Earth!" she wrote. "She weighed a perfect 8 pounds 4 ounces, and we couldn't be happier to finally hold her in our arms."
"To tell you the truth, I haven't stopped staring at her since she arrived," she said. "There are no words to describe the amount of love I have for her...I never thought I could feel so many feelings for someone so small."
Audrina Patridge / Snapchat
Patridge said she was "lucky" to have "very few problems" during her pregnancy, although she did end up giving birth to Kirra via C-section.
"However, now that it is all said and done, I couldn't be happier to have a healthy, strong little girl—my scar is nothing but a battle wound!" she said.
Patridge also revealed the origins of her daughter's name.
"I have loved the name Kirra for a while now, and when I read my top 3 names to Corey, he loved it, too! Kirra is also the name of an amazing surf spot in Australia, so it has double meaning!" she wrote.
"For those of you who have asked about her middle name, Max—we named her after my grandpa, Max, who unfortunately passed away about a month ago," Patridge continued. "She was due on his birthday, and he couldn't wait to meet her. He would have been so proud...I love and miss him so much. I know she would have melted his heart, as she's done to mine, and I would do anything to have them meet, even if its just for a brief moment."