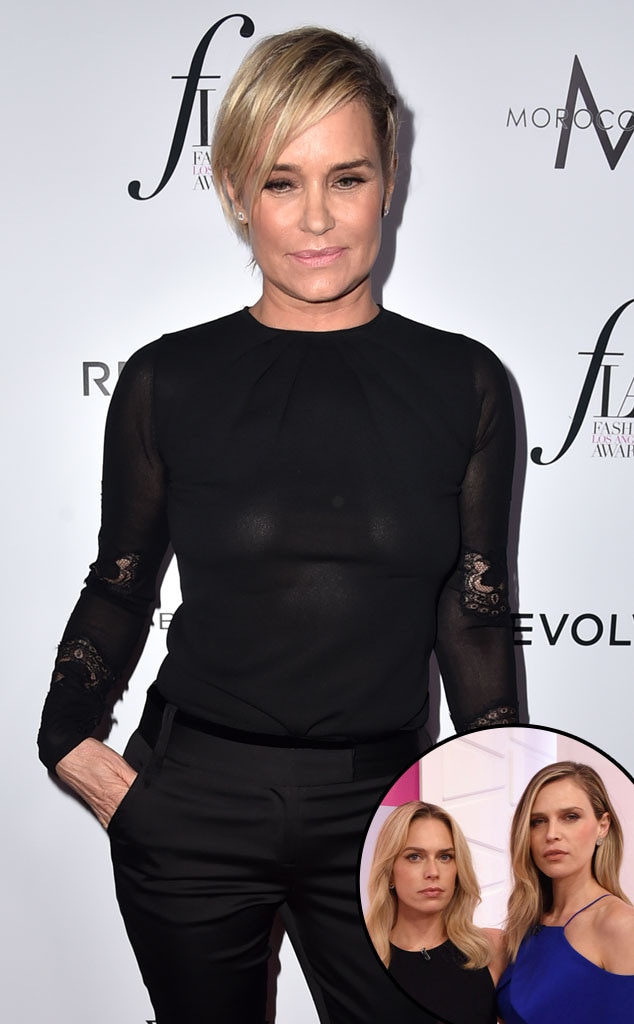 Alberto E. Rodriguez/Pret-a-Reporter/Getty Images, Bryan Bedder/Getty Images for Amazon
While Yolanda Hadid's personal life has played out on-camera since her split from David Foster, his children are now shedding light on his side of the story behind the scenes. 
A year after the music mogul wed the Dutch model, Yolanda joined the cast of the Real Housewives of Beverly Hills and their already public life became a new element of one of Bravo's most celebrated franchises. Fast forward to December 2015 and, amid Yolanda's very public battle Lyme disease, the couple jointly announced they were getting a divorce. 
"We are grateful for the years we've spent together and believe wholeheartedly that we did our best," part of the statement read. Now, nearly seven months filled with speculative headlines later, Foster's daughters, Sara Foster and Erin Foster, sat down with Jenny McCarthy to air their own opinions of the situation, particularly Yolanda's crippling televised illness. 
"Look, this is how I feel. We don't comment to our friends on Yolanda's health. That's not for us to comment on. Only she knows  her journey, but what I will say is if you're capable of continuing to be on a reality show, you're not dying," Sara said during the radio interview on Dirty, Sexy, Funny. "Let's be honest."
"Again, we are not doctors. We have no idea what goes on, and we don't wish anyone ill will of any kind," Erin elaborated. "However, I think that from everyone's experience, if anyone's ever known someone who is very sick, who has cancer, who is dying, who's in the last year of their life, the only thing that person gives a s--t about is getting through the day and being treated normally. No one wants everyone to know how sick they are and everyone to see how much they're struggling, and when that seems to be the focus, making everyone see how sick you are, that's just confusing to someone who's trying to be supportive."
Rachel Murray/Getty Images for Celebrity Fight Night
Meanwhile, Hadid has since revealed she will not be returning to reality television. "I say goodbye to my@Bravotv Family as I continue to focus on a my recovery and bring back the privacy within our home," her mid-July announcement read.
While many fans and several of Yolanda's own co-stars have accused her of faking her illness, some have conversely come to Yolanda's defense and accused Foster of deserting a sick woman. In response, these sisters say: 'You have no idea what you're talking about and you're so off the mark for how things went down."
"Our loyalty is to our dad. Our dad is a really good guy," Sara declared. "Let me tell you something. That guy will give the shirt off his back to you, to you, to you. To anyone in this room. If a random person in this studio came up to him and said, 'Mr. Foster, I can't feed my family, I need help, my dad would say call my business manager right now, I'll wire you 20 grand.' That's who my dad is, and he doesn't like credit for it. So to watch him get dragged into some disgusting, bulls--t, Daily Mail, social media scandal, all lies, and for no one to come to his defense."
Evan Agostini/Invision/AP
While it sounds like they're not too fond of Hadid currently, they have nothing but pleasant things to say about her children. 
"Gigi [Hadid]'s a good girl," Sara said. "It would be really easy not to like someone that beautiful and that cool."
"We are sad about the dissolving of the marriage because there was a period of time when we had this really great family nuclear unit," Erin added. "That felt good to us. We never had that our whole lives, so there was a period of time when everybody got along and it was really nice and we really love those kids."