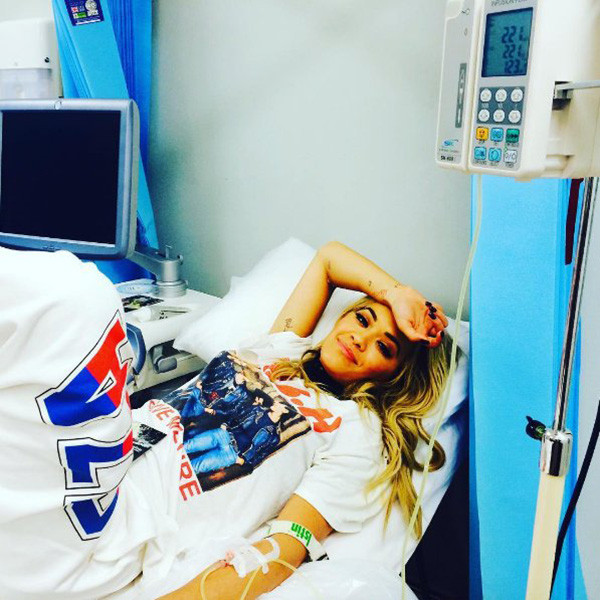 Instagram
Rita Ora ran herself ragged Wednesday.
The singer started off her morning at a photo shoot in London, which she documented via her Snapchat. But, as the day progressed, Ora's energy waned. She eventually took a trip to the hospital, where she got an IV and some rest. "Today was pretty tough but I'm getting through it thank you to all of you for the support!" she said on Instagram. "I love you!! #exhaustionisreal."
Ora, 25, also Snapped a photo of her arm with an IV in it.
After spending the afternoon in the emergency room, Ora was feeling much better. In fact, later that night, the pop star Snapped a photo of herself in a bra and wrote, "Goodnight guys."
It's been a busy month for Ora, who attended Glastonbury Festival over the weekend. The singer was celebrating with friends, as she had recently signed a worldwide recording contract with Atlantic Records UK. The deal came almost two weeks after her reported signing with Warner Music and departure from Roc Nation. "I'm so thankful to my new Atlantic Records family and First Access management for all their support and encouragement!" Ora wrote on Instagram. "The next chapter is going to be incredible!"
Atlantic Records UK President Ben Cook praised Ora, who hasn't released an album since 2012 (due in large part to a legal battle with her former record label). "First and foremost she's a great singer who's hugely passionate about music, and I'm delighted to welcome her to Atlantic Records," Cook told E! News in a statement. "We look forward to getting in the studio with her and making an incredible album."
While her music career was on hold, Ora turned her attention to her acting career. She will reprise her role as Mia Grey in 2017's Fifty Shades Darker (the sequel to 2015's Fifty Shades of Grey), and she starred alongside Jake Gyllenhaal and Rachel McAdams in 2015's Southpaw.