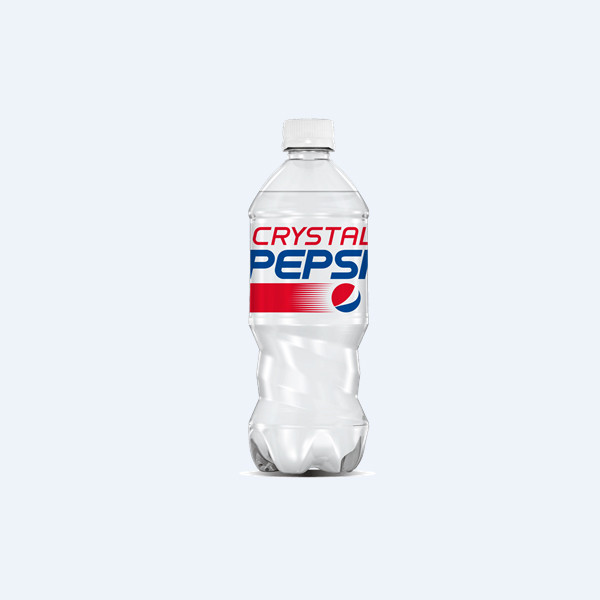 Pepsi
Holy Tamagotchi with a side of Gushers! Are you sick of '90s nostalgia yet!? Of course, you aren't! And thank goodness because Crystal Pepsi is back and the spirit of our childhood has never been more alive. Starting August 8, those of us in the states will get to experience the glory that is see-through Pepsi one more time. Canada can expect to see the soda hit shelves July 11 which is just not fair.
If you were still a tiny BB back in the early '90s when Pepsi first blessed us with this soda, we very strongly recommend you get in on this release. It will only cost you $1.79 which means you no longer have to resort to buying ancient, undrinkable bottles for upwards of $5,000 on eBay. No joke, we saw a pack of vintage Crystal Pepsi's for that much. We told you these things were a big deal! 
To celebrate the relaunch of Gods gift to humanity, Pepsi is rolling out a '90s style computer game because '90s. It's called The Crystal Pepsi Trail, and as the name might sound, it's very heavily inspired by The Oregon Trail in the best way possible. Travel around in your station wagon as you experience painfully relevant obstacles like slow AOL dial-up and Tamagotchi deaths. There's even an encounter with Double Dare's Marc Summers. We can't make this stuff up people. You'll see what we mean in the video above. Thankfully the game comes out July 7, so we'll all have something '90s to do while we wait for the drink to come back into our lives. And thank GAWD because we have no idea where we would have satisfied our craving for '90s nostalgia between now and then.