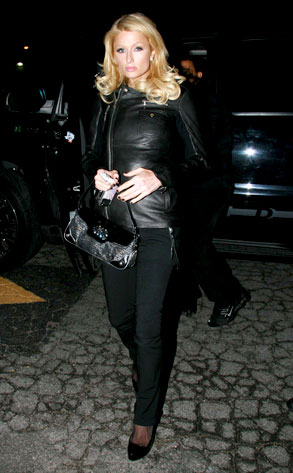 Josephine Santos, PacificCoastNews.com
While it may seem difficult to believe, sultry, BFF-seeking celebrity Paris Hilton has limited her sexual encounters to "a couple of people," she revealed to Glamour magazine. "I think it's important to play hard to get," offered Hilton. "Nobody wants the fake Prada bag; they want the brand new bag that no one can get and is the most expensive."
The star's personal philosophy has been backed up by no less an authority than the American Handbag Lovers Association, a group devoted to fetishizing women's purses. "We're glad that Ms. Hilton has acknowledged our unique point of view by comparing her vagina to an expensive handbag," stated AHLA spokesman Highland Churm.
"Our members appreciate the sensual beauty of making love to a fine Hermès Birkin, or the exquisite sensation of fondling a slouchy Chloe Paddington, even just sniffing the leathery musk of a Fendi Spy as your body becomes rigid with anticipation," said Churm.
"Hilton obviously knows her precious vagina is on that level. It's an expensive, classy vagina that—like a fine handbag—may take years to get, and not some stretched out old canvas Mossimo anyone with a Target card can buy."