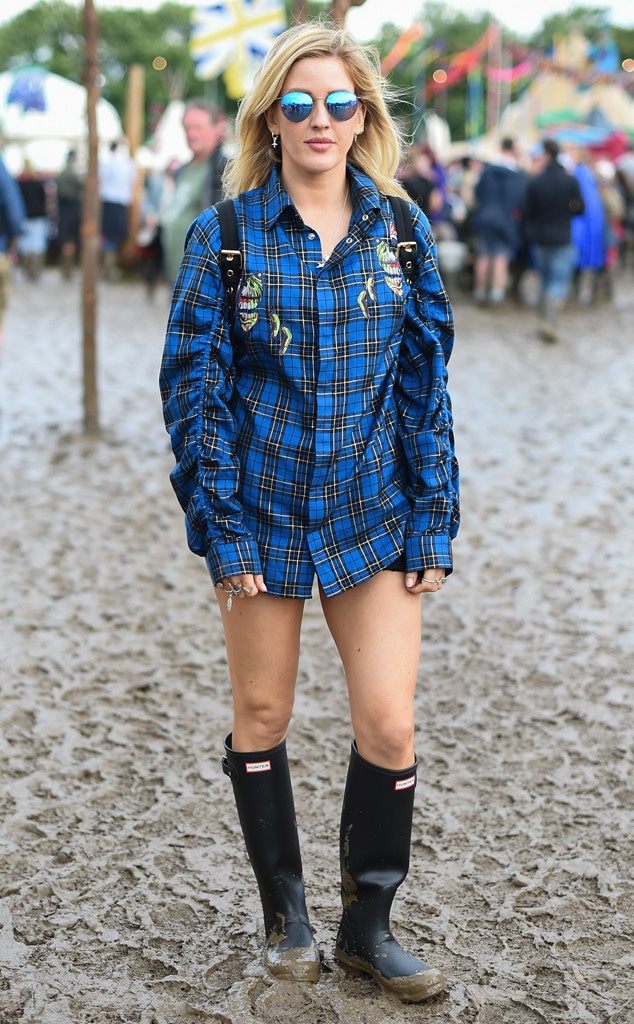 Samir Hussein/Redferns/Getty Images
Flower crowns. Fringe. Kimonos. Ill-advised suede booties. More flower crowns. These are the items we most closely associate with music festivals. We hear the words Coachella or Bonnaroo and instantly conjure images of pseudo-hippies and would-be-bohemians twirling around in fields to the sounds of, well, it's not really about the music at these things is it?
But the Glastonbury festival is an entirely different beast. It takes place at Worthy Farm in Pilton, United Kingdom, which sounds whimsical and medieval but is actually just very, very hard on your shoes. Britain is known for its rain, and rain it does during Glastonbury—if it's not raining, you can darn well bet it's at least going to be as muddy as all get out. 
As such, proper footwear is required. The uniform of Glastonbury isn't so much flower crowns at is rain boots, rain boots and more rain boots. Wellies, to be exact. If you show up to Worthy Farm in anything but, you may as well show yourself out in shame immediately. This year's festival just concluded last night (with a closing performance care of Coldplay and Chris Martin's adorable children, to boot) and there were Wellies a-plenty—so much so that it got us thinking: Just how prevalent is this footwear?
We've rifled through all sorts of scientific evidence to bring to you an inexhaustible report of every pair of Wellies ever worn at Glastonbury. (Actually, make that every pair that we deem worthy...it's not like you have all day for this.)
Here we have Kate Moss, the Patron Saint of the Hunter Wellington. Her relationship to the festival, and the rain boot itself, is symbiotic. There is no Glastonbury without Kate Moss, and heck, there may as well be no Kate Moss without Glastonbury. No matter the weather, timing, lineup or political climate, Kate Moss is going to be at Glastonbury Festival. And damnit, she's going to be wearing Wellies. Here we observe one of the earliest Kate-in-boots sightings, over a decade ago. We see her developing her love for the practical footwear, and testing its durability against the elements (read: mud).
Dame Shirley Bassey, 2007
James McCauley/REX/Shutterstock
A famously solitary and mysterious former singer, Dame Shirley Bassey here represents an important milestone in both mid-aughts celebrity fashion and the progression of Glastonbury in general. We give you: The personalized bedazzled Wellies. Not for the fashion faint of heart or the shy, this version was donned by a very specific set of festival attendees. The kind of festival attendees that shopped at Kitson and were glued to their T-Mobile Sidekick, if you will. 
Danny Martindale/WireImage
Now we see Kate again, and she apparently has not washed her boots since the first sighting. She clearly understands the historical significance of the Wellington and has chosen to preserve them as they were on their debut in preparation for their showcasing in a museum one day. 
This is what we like to call perfecting the mid-day wardrobe change. With rain boots intact, of course. This is a demonstration to laypeople that a true Hunter boot connoisseur can pull them off with both shorts, pants, and whatever that weird vest thing is in the photo above. An impressive feat, indeed. 
Danny Martindale/WireImage)
Remember Lily Allen? She hasn't had a new song since, like, 2010 probably, but she is an important part of the Wellie history nonetheless. Here she models the oft-forgotten but very much appreciated forest green hue which, contrary to popular belief, isn't just for fly fishers. 
Danny Martindale/WireImage
We have a confession. Or, rather, Emma Watson has something to confess. These are not actually Hunter Wellingtons. They are knockoffs. But regardless, they are an important part of the historical fabric of Glastonbury and should be observed nonetheless. Emma is modeling the popular look-at-my-socks-peeking-over-the-top-of-my-rain-boots ensemble, which as you can see defies both temperature and precipitation level. 
Danny Martindale/GC Images/Getty Images
When you are a British socialite and the one-time girlfriend to Prince Harry, you must obey the rules of Hunters closely. Cressida here attended the festival in full Glastonbury-chic, which is to say wearing cutoffs and an old T-shirt. But darn if those aren't perfectly-curated mud streaks.
Danny Martindale/GC Images/Getty Images
2014 was a big year for rain boots. It was also, by all logic, probably a big year for rain. Clearly Ellie Goulding here was so concerned by impending precipitation (and the resulting mud) that she felt the only way to prepare was by wearing a full military-issue sweatsuit. It's not how the royals would do it, but to boot-wearer their own.
Danny Martindale/GC Images
Ah Florence, you fabulous vest-lover you. We don't know if she's getting ready to try her hand in an equestrian competition or trudge through the fields to the headlining act, but either way we're sure a million aspiring Hunter boot wearers followed suit. (Literally...suit.)
Danny Martindale/WireImage
Alexa is second in command of the reigning Glastonbury queens, but her Wellington wears fall far short of Miss Moss. Still, we are treated to the rare sighting, and at last year's festivals we observed her in a classic black pair styled with a typically Alexa Chung-y dress. Keep gunning for the top spot, girl.
If there is anyone out there questioning Cara Delevingne's commitment to festival life, just take one look at these boots. Mud-splattered doesn't begin to describe it—they've taken on a new shade all their own. She is clearly using her Hunters in their true intended function, which is to say she is one admirable festival-goer.