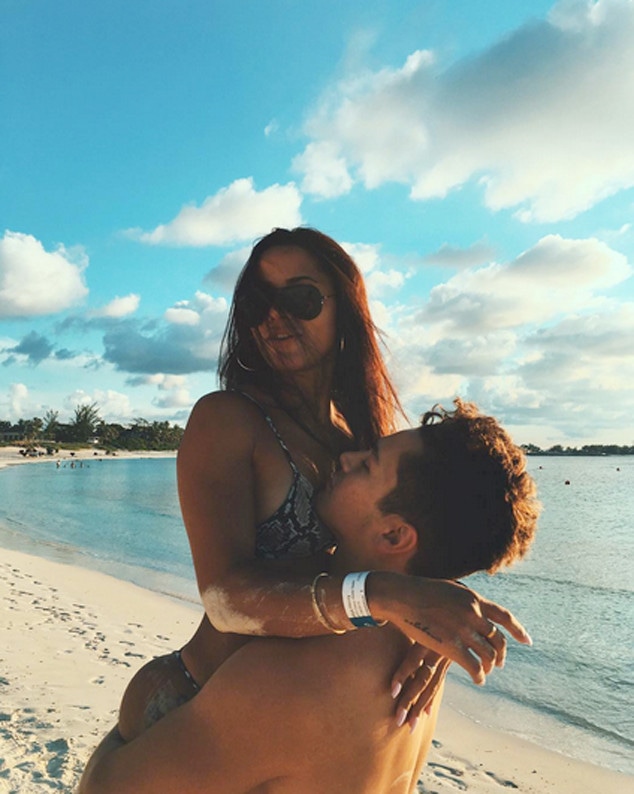 Instagram
What started off as an Instagram fling has turned into a really serious thing.
Fans of Austin Mahone know that the "Mmm Yeah" singer has been spending lots of quality time with his girlfriend Katya Elise Henry.
From birthday trips at the Atlantis Resort in the Bahamas to date nights at the Disney World resort, the pair can't hide their chemistry for one another wherever they go.
So when we had the chance to chat with Austin at the 12th Annual Irie Weekend in Miami this weekend, we had to ask a little more about this special love.
"I like how adventurous she is because whenever I want to take a trip, she is down to go anywhere in like a drop of a hat!" he told E! News exclusively at the AQUAFINA IWXII BBQ Beach Bash Pool Party. "We both want to go to Costa Rica together."
As for how these two met, it wasn't a fancy new dating app. And no, it wasn't at one of his sold-out concerts. Instead, cupid struck on the one and only Instagram.
"I mean, it's a classic new generation kind of meet up thing," he admitted. "It's crazy. I just think how funny it would be if I tell my kids one day I met her through Instagram. That will sound so funny."
And if you think Austin is getting ahead of himself with talk of kids, you may be wrong. When we asked the singer if he could see himself marrying Katya in the future, he couldn't help but say "yes."
"I am taking it really slow. She's a cool chick," he explained. "I like her a lot. I mean, I love her!"
For now, the pair is just enjoying quality time together. Austin loves when his leading lady cooks for him including omelettes mixed with ham and asparagus.
And since Katya is a fitness model and instructor, there's a good chance you can see these two breaking a sweat in the gym together.
"We do work out together a lot," he explained in between showing off his abs on Instagram. "Yes, she has given me tips on working out."
Safe to say summer love is alive and well!        
Watch:
Austin Mahone Knows How to Flirt