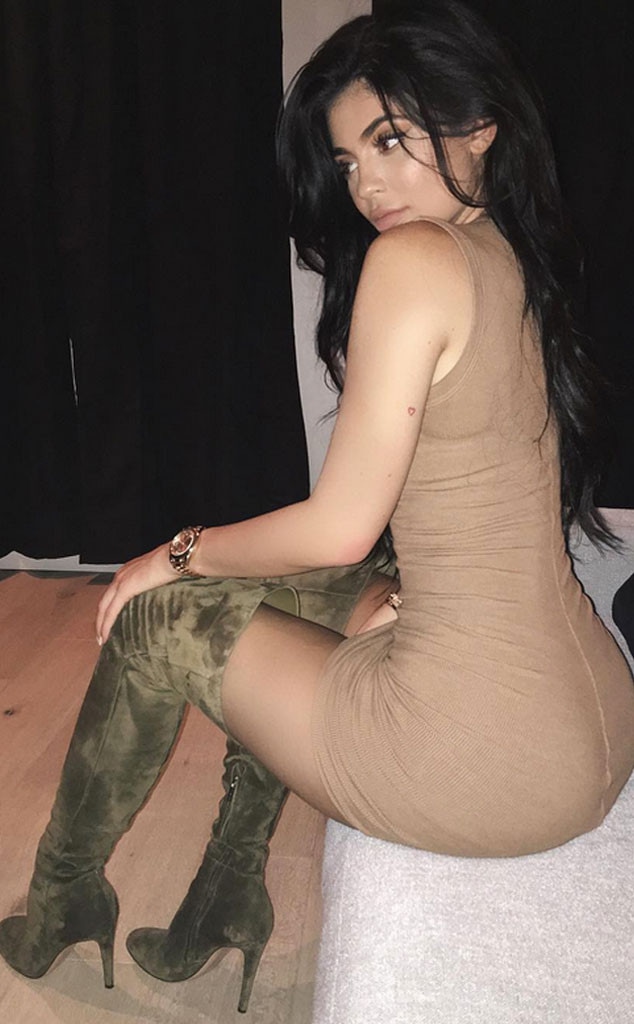 Instagram
Tag 'em so we know it's real.
Shortly after E! News reported that exes Kylie Jenner and Tyga are "hanging out" again, the young brunette beauty took to Instagram to share a photo that further confirms it's back on and poppin' for these two lovebirds. 
Posting a sexy snapshot of herself sitting on the edge of a bed while wearing a form-fitting dress that accentuated her figure and thigh-high boots, Kylie tagged the rapper in the photo. And yes, she placed the tag on a very specific area of her body to make things even more racy.
Sure, the tag could have just been an alert to Tyga saying, "Hey look at me and my bad self," but the pair had already made it clear that they were together during this impromptu Instagram photo shoot. Tyga posted then deleted a picture of Kylie laughing in the same setting (and outfit) and wrote, "They always come back..."
Oooooh. Regardless, what have we always learned from social media? If there's a tag, there's usually something going on.
Additionally, a source tells E! News that both Tyga and Kylie were at Los Angeles hot spot 1Oak last night, where they each arrived and left separately.
A source told E! News that Tyga and Kylie "started seeing each other again romantically. It's not as much pressure this time around because they both have had some space over the past few weeks apart. Tyga wants to get back with Kylie though. Tyga says that [she is] his wifey, in good or bad."
The timing may seem funny to some, because it was just yesterday that Kylie appeared to confirm that she's romantically involved with PartyNextDoor.
The rapper released his music video for his song, "Come and See Me," on Thursday, which featured Kylie as the leading lady. At the end of the video, the pair enjoy a steamy makeout session in the rain—a moment that seemed to prove there was more brewing between them than just friendship.
Meanwhile, Tyga has also been posting photos of model Amina Blue in anticipation of his music video release for "1 of 1," so perhaps there's some racy scenes between them, too, and then they can just call it even and start fresh.