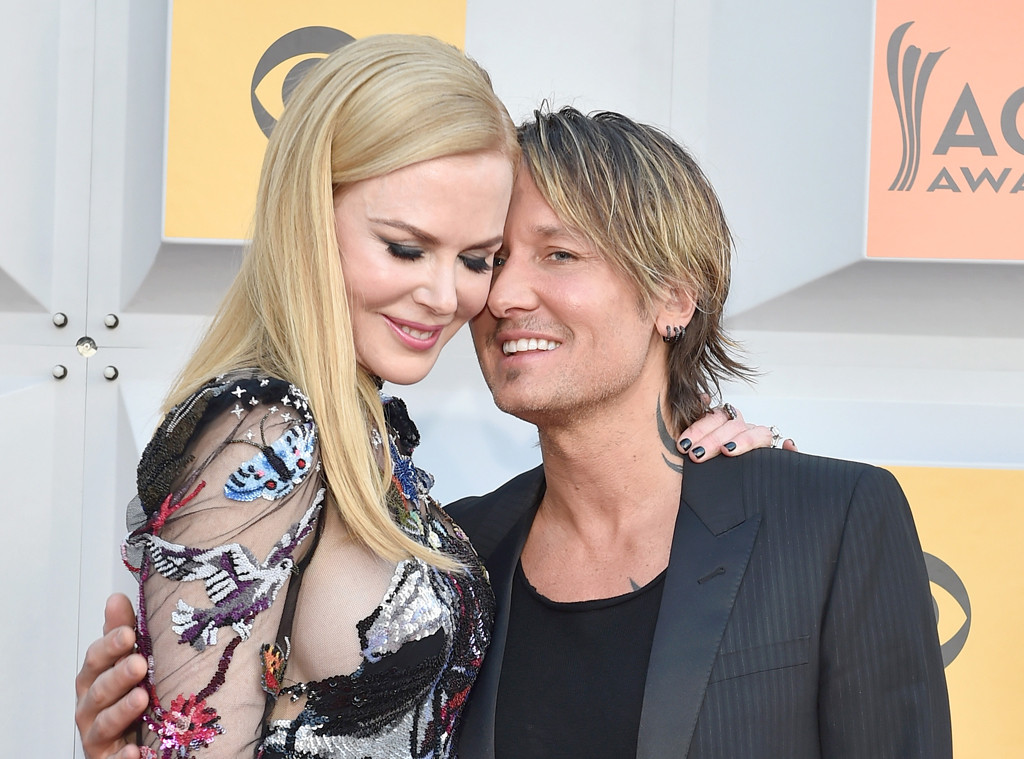 David Becker/Getty Images
What a difference 15 years can make.
Or 15 minutes for that matter, because when Keith Urban met Nicole Kidman at the 2005 G'Day USA gala honoring Australians in Los Angeles, he was pretty much down for the count.
And yet, it took him four months to pick up the phone.
'I'm like, 'You didn't love me at first sight, you didn't notice me,' and he's like, 'Yes I did but I just didn't let on,' but we kind of met and then about four months later he called me,'" Kidman recalled on Ellen in 2013. A month after that, Kidman was sold, too.
"I kind of like getting married and then getting to know each other; I know that it sounds incredibly strange, but to me, it's a more natural process," she told Elle in 2014.
As Kidman has since revealed, a romantic motorcycle ride, her arms wrapped around the singer, through Woodstock, N.Y., and a romantic picnic helped seal the deal.
"I was a goner—I mean, c'mon," the Big Little Lies star told WSJ. Magazine earlier this year. 
At first it may have seemed like a surprising pairing, the statuesque Oscar winner and the Nashville-based country singer, but the couple have quietly proved countless times over just how right for each other they were.
And today, they're celebrating their 14th wedding anniversary, looking just as smitten as on day one.
Related:
Nicole Kidman & Keith Urban Steal 2016 CMAs Red Carpet
"We actually said we're going to celebrate all year," Kidman told E! News at the Tribeca Film Festival in April 2016. Added Urban, "We just feel incredibly lucky." They were somewhat able to tear themselves away from each other's gaze in order to chat for a moment.
A few weeks later, Urban was looking at his wife on the red carpet at the 2016 Met Gala as if he'd just stumbled upon the fairest of them all, the two of them carrying on their own private little love affair amid thousands of camera flashes.
David X Prutting/BFA/REX/Shutterstock
And while fashion's biggest night may sound more like her jam than his, the couple have seamlessly flowed back and forth between their seemingly separate worlds, none of that we-don't-do-carpets-together business for them: Kidman is now a fixture at the CMAs, the ACMAs, the CMTs, etc., and she attended the 2015 American Idol finale, while Urban has been to more Academy Awards, Golden Globes and SAG Awards ceremonies than he probably ever envisioned when he was starting out on the country circuit in the late 1990s.
While there isn't tons of evidence to suggest that Kidman was a big country fan before they got together, she does love being married to a musician and gets a thrill from watching him perform.
"Because he's been playing since he was 6 and because he loves playing—there's something in that," she told CMT before the 2016 CMT Music Awards. "He doesn't get nervous; he just can't wait to get up there."
During her 2013 chat with Ellen DeGeneres, when shown a pic of Urban strumming his guitar with their daughters, Sunday Rose and Margaret Faith, while sitting in the back of a pickup truck, Kidman acknowledged, "He is divine, that's very much our life. They play guitar and dance and that's his pick-up truck."
"The great thing about being married to a musician...you have music in the house all the time," Kidman, the Moulin Rouge star of course a capable singer who's been known to sing a duet or two with her husband, continued. "There is something very joyful about having music. Keith can play pretty much any instrument. He'll just play piano at 7 in the morning that's what we have, is breakfast around the piano and very much a part of our life."
But life hasn't just been all romance and family jam sessions for the couple, who perhaps appreciate what they have even more today due to what they went through early on in their relationship.
In October 2006, just a few months after their wedding, Urban—who had previously opened up about doing cocaine and otherwise abusing drugs in the 1990s—checked into the Betty Ford Center to treat alcohol addiction. And Kidman flew home and called off the rest of her press tour for Fur: An Imaginary Portrait of Diane Arbus to throw her full support behind him.
"I was going to lose it all," Urban recalled the decision to go to rehab to People a year later, in November 2007. "It was like, 'If I don't choose this moment to do the right thing and do something that's going to give me life, all of the things I'm scared of losing, I'm going to lose anyway." 
"Definitely we both met each other exactly at the right time," he said. "She said early on that she wanted to be brave with me. I feel there was something else at work, bringing us together and then just continuing to watch over us." Urban also told the mag that it was "very, very hard to have to have her go through that."
Kidman, who after 10 years of marriage to Tom Cruise was nothing if not stoic, said in the October 2007 issue of Vanity Fair that they decided together it was best to be publicly open about what was going on in their lives.
"You can try and hide it, smoke and mirrors and all, but then how do I visit every weekend?" she said. "It's been a huge lesson for me too."
She also reflected to the magazine, it being barely two years since she and Urban had first met, "I think we were two lonely people. I would probably say that two very lonely people managed to meet at a time when they could open themselves to each other. We were a mixture of frightened and brave."
Kidman admitted that it was a "deeply painful" place that prompted Urban into recovery, but since, "I've learned an enormous amount having a relationship with someone who is in recovery. I'm more than willing to walk it with him. The two of us are very committed to our relationship."
Mark Davis/Getty Images for Turner
"Meeting Nic and falling in love with Nic and starting a relationship with Nic became—I realize now in hindsight—my sobriety. That was how I was able to keep it together," he told Rolling Stone Country in 2014.
He had ended up checking into rehab just weeks after his prophetically titled Love, Pain and the Whole Crazy Thing came out.
"I didn't give a s--t about anything except turning a corner in my life and doing whatever it took for that. I was very, very blessed to have Nic call an intervention on me. I had a tight group of friends around me for the intervention. And off I went," he recalled.
To call Kidman his rock is a quaint understatement—though Urban has been perfectly happy to use that term. Asked if he was scared to undergo vocal surgery in 2012, he told Rolling Stone, "For some reason, no. I thought I was in really good hands. I had Nic with me—she was such a rock. That helped hugely. She came all the way up to Boston, where I had the surgery, and she was with me the whole way."
Only if it had been any other way would that have been a shock.
And though he's released six studio albums since meeting Kidman, and has another, The Speed of Now Part I, due out in September, and in normal times maintains a heavy touring schedule that doesn't involve playing shows in their garage, Urban is often quite busy singing his wife's praises. 
"Meeting her and getting married wasn't life-changing, it was life-beginning," Urban told CBS News in 2016 as their 10th anniversary approached. "It was literally, like, 'OK, life starts.'"
Of course, no famous couple makes it all these years without running the divorce-rumors gauntlet.
"The people who really know us are most aghast by the whole thing and going, 'How do you not want to defend that?' I'm like, 'It's pointless,'" Urban said in 2013. "Our life will be our way of defending it."
Stephen Lovekin/Shutterstock
So the question remains, how to keep that life they've built together chugging along?
"We just work at it. We love each other and we work at it. It's beautiful work," Urban has said.
Ahead of their milestone 10th anniversary, a source told E! News, "Nicole and Keith are very dedicated to each other, they work hard at their relationship and have always been a close family unit."
But perhaps even more mystifyingly, how do they still keep achieving peak aw-factor Because no matter how much time they devote together, work still requires them to be apart more than your average couple...or maybe not?
"It's very, very hard. It's excruciatingly hard not to be there right now," Urban told Rolling Stone while Kidman was in Cannes for the now-infamous premiere of Grace of Monaco.
Yet while the unofficial industry standard is usually about two weeks for max apart time, Urban told the mag that the longest they'd gone without seeing each other was only five days (Kidman said early on that once they hit seven days "we start to hurt") and they "stay very, very connected," Skyping and talking on the phone several times a day.
Kidman also told InStyle in 2014 that Urban would leave her a love letter for every night he's away, resulting in a collective swoon at newsstands everywhere.
Obviously whatever system they've adopted is working for them.
"My husband and I never text each other. We never do. Once in a blue moon, we'll text. But mainly we say, 'I want to hear your voice,'" Kidman dished to DuJour in 2015. Moreover, "we don't email each other either. So it's about trying to keep it as intimate and personal as possible."
So that's why when they do text, it's... "that kind of text."
"We never email," Urban had previously revealed on Ellen in 2013. "Phone calls only. Which I really love...Maybe one text. Maybe one cool kind of, you know...that kind of text." Oh, but Ellen made him say it, playing coy.
"Nice, sex texting," he offered. "I'm a little red right now."
But for the most part they really keep it together by being physically together, with Urban hopping on a plane one night and Kidman doing the same whenever the country—or oceans—need crossing.
Kidman told DuJour about the time Urban took a pause mid-tour in the U.S. to fly to London to see the opening night of her play Photograph 51. "I said, 'It's too much for you to have to fly all the way back, don't worry,' and he said, 'I'm flying,'" she recalled. "He flew 10 hours to come and be with me for the night, and then he flew back and did a gig. That for me is love in action. That's extraordinary. But I would do the same for him and that's what we've committed to as a couple."
Of course, they aren't always racking up airline miles. They amass fuel points, too.
"That's basically how I've seen most of America, on that [tour] bus," she also told InStyle. "Keith and I are both gypsies at heart. We can make our home wherever we are. The girls are like that too now, so we take them everywhere."
Kidman told WSJ. this spring that, in recent years, she'd pass on films if they took her away from the East Coast for too long while their daughters were in school, though sometimes, especially now that they're a little older, it's more feasible to bring them to set (and give them big little roles to play).
"When Keith's not touring, it's much easier," she acknowledge. "He'll be on tour next year, and then I just don't work as much. Literally—it will become imbalanced, and we will change it. We don't have the answers, but the one thing we do know is that we will not jeopardize us."
In the end, "I'm very country at heart," Kidman has also said. "I have a real desire to be outdoors, a desire for simplicity—a slightly slower, relaxed approach to life. A community, not a big-city feel. That's what I grew up with, and it's what I prefer."
So it's obvious by now that these two kindred spirits never really were an odd match, though from Urban's perspective they're still a case of Earth happening upon Venus.
"I have a wife who is just from another planet," Urban has said. "She is so celestial. I say that I was born into her. That is the best way I can describe how I feel about her and us."
(Originally published June 25, 2016, at 3 a.m. PT)