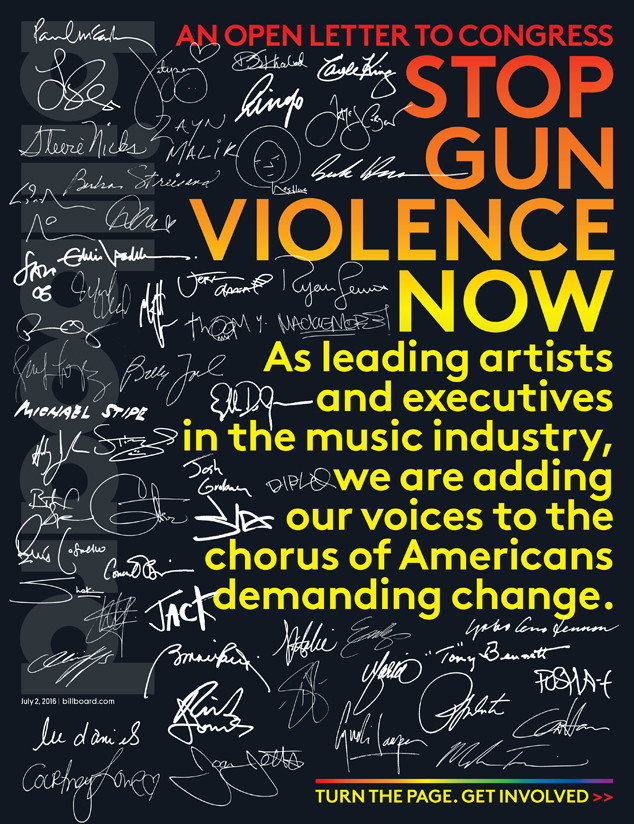 Billboard
In the wake of the tragic shooting in Orlando, musicians and executives of the industry have teamed up to sign a letter asking Congress to "stop gun violence now." The letter was published on the cover of Billboard's latest issue, and features the signatures of A-list performers including Lady Gaga, Selena Gomez, Britney Spears and many, many more.
The letter requests that Congress step up if efforts to prevent gun violence that kills "more than 90 Americans every day and injured hundreds more." The two suggestions the letter states are requiring background checks for every gun sale and block suspected terrorists from buying guns.
"Billboard and the undersigned implore you—the people who are elected to represent us—to close the deadly loopholes that put the lives of so many music fans, and all of us, at risk," the letter states.
Lady Gaga spoke at a vigil following the Pulse nightclub shooting, and Gomez lost good friend Christina Grimmie, 22, just the night before when she was shot and killed during a performance in Orlando.
"Lost members of the LGBT community, I hope you know that myself and so many are your allies," the "Bad Romance" singer said at the vigil. "I can't help but feel that this level of hatred, like all prejudicial crimes, is an attack on humanity itself….Tonight, Orlando, we are united with you to remember."
Billboard's letter comes on the heels of the Senate failing to pass legislation on four gun-control measures.