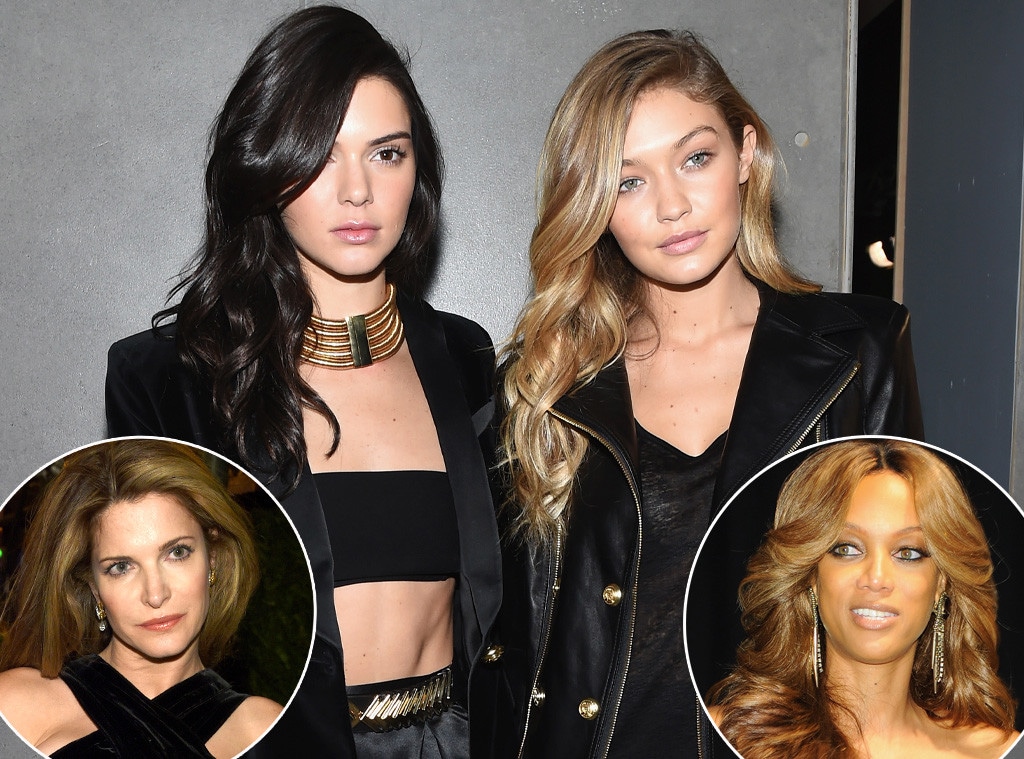 Getty Images
Tyra Banks is not cool with the drama surrounding Stephanie Seymour, Gigi Hadid and Kendall Jenner.
In case you missed it, Seymour was recently asked by Vanity Fair about how the industry has evolved in recent years. "Supermodels are sort of the thing of the past. They deserve their own title," she told the publication. "[Kendall and Gigi] are beautiful girls, and I support all of them, but they need their own title."
As for what their title should be, she laughed, "Bitches of the moment! That would be a good title for them."
This response did not settle well with Kendall and Gigi, who spoke out against Seymour, expressing their disappointment over her comments.
Now, Tyra is speaking out about the feud, expressing her own disappointments.
"This supermodel war is raging and it's really tearing me apart," she wrote on Twitter. "I wanna quote Rodney King so badly right now."
She also took to Instagram to share her own struggles in the industry at an early age, and why woman-on-woman bullying cannot happen.
"18 years old. Backstage at some grand fashion show. In Europe. France? Italy? Can't remember," she captioned the vintage photo. "But what I DO remember is that even though I may look self-assured and confident, there was a lot of pain in my heart. There were roadblocks and people who wanted to halt my success, but the fire in my heart and support of my mother kept me going."
She continued, "If I could talk to my 18-year-old self, I'd tell her that she will grow up and be a voice for all models. For all women. That she will have a responsibility to speak up when she sees things going awry. When she sees women that are sisters having conflict, she must be bold. She must be unafraid. She must speak out. And she must do it today. And I will. Get ready."
Does this mean we can expect to hear more from Tyra on the topic? It looks like it...and we're on the edge of our seats.