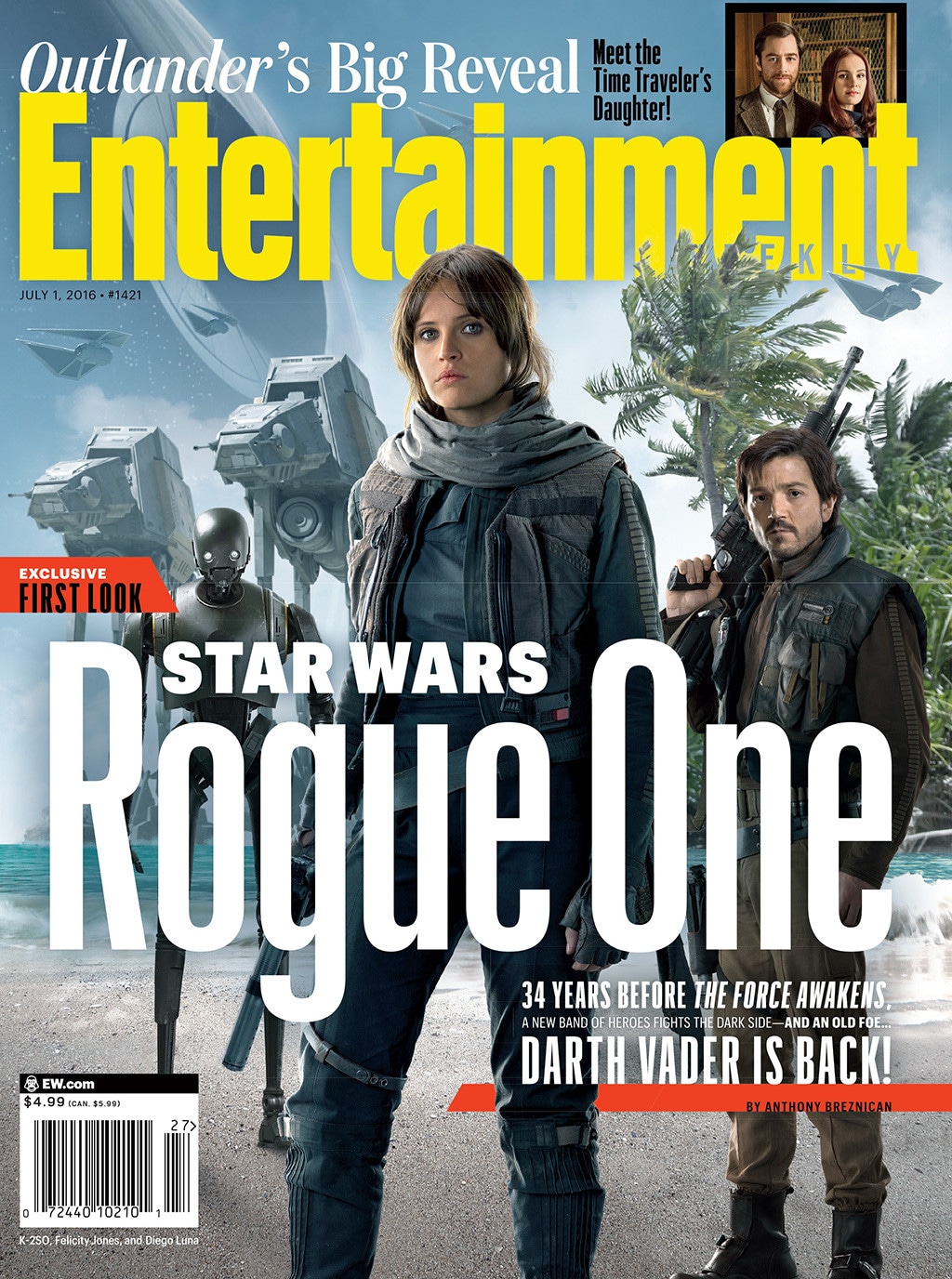 Lucasfilm/Entertainment Weekly
UPDATE: Entertainment Weekly revealed more details about Darth Vader's return Thursday. James Earl Jones will reprise his voice role, while a variety of performers will stand in as the character. "He will be in the movie sparingly," Lucasfilm president Kathleen Kennedy says. "But at a key, strategic moment, he's going to loom large." Among the rebels, Darth Vader is known more as a legend than a real threat. "Within the Rebellion, it's not commonly spoken about," director Gareth Edwards says. "Within the Empire, there is the culture of knowing of the existence of Darth Vader. There's definitely an underlying feeling that there is a power—a dark power—available to the Empire and that if you overstep your mark, you will suffer the consequences."
Darth Vader doesn't play well with others, least of all other imperial leaders like Director Orson Krennic (Ben Mendelsohn). "Vader doesn't really play by the rules," Kiri Hart, Lucasfilm's chief of story development, tells Entertainment Weekly. "He's present in the military structure," she adds, "but he's not beholden to it. He's not accountable to anybody, really, except Palpatine."
___________________________________________
Darth Vader will be back on the big screen before long.
Entertainment Weekly revealed on Wednesday that the villainous character will be involved in Rogue One: A Star Wars Story, in theaters Dec. 16. Key details—including how much screen time he will have and in what capacity he will appear—are being kept under wraps. "Darth Vader kind of looms large over the plot even when he's not necessarily on screen, because the new villain played by Ben Mendelsohn, Director Krennic...He's trying to fulfill the wishes of the emperor," writer Anthony Breznican explained on Good Morning America. "He's got kinda Vader looming in the background over his shoulder, making sure that he gets the job done."
The magazine also issued a press release, in which it confirmed Mendelsohn's character is "eager to earn the favor of the Emperor—and avoid the wrath of his black-masked enforcer."
Watch:
Is Felicity Jones Ready to Tackle "Star Wars"?
So, who will play the masked villain? David Prowse wore the costume in the original trilogy, with Gene Bryant under the mask for the character's cameo in 2005's Star Wars Episode III: Revenge of the Sith. James Earl Jones provided the voice for Darth Vader in all four movies. Hayden Christensen, meanwhile, played a young Darth Vader, Anakin Skywalker, in 2002's Star Wars: Episode II – Attack of the Clones and 2005's Star Wars: Episode III – Revenge of the Sith.
Lucasfilm has yet to announce the character's casting.
Entertainment Weekly's July 1 issue (on newsstands Friday) provides details on other actors' roles, too. Mads Mikkelsen plays protagonist Jyn Erso's father, "a scientist whose knowledge is sought by both sides. Alan Tudyk's performance capture role will be K-250, an enforcer droid. And, to fans' delight, the magazine promises "candid revelations from the filmmakers about what the current reshoots are adding to the story as the film nears its December release." Even Disney CEO Bob Iger is feeling optimistic. "I've seen Rogue One. I've seen not only an edited picture but I've seen significantly more footage than was even in that picture," he tells The Hollywood Reporter. "That's actually going to be a fine film."
(Originally published Wed., June 22, 2016 at 10:04 a.m. PT.)