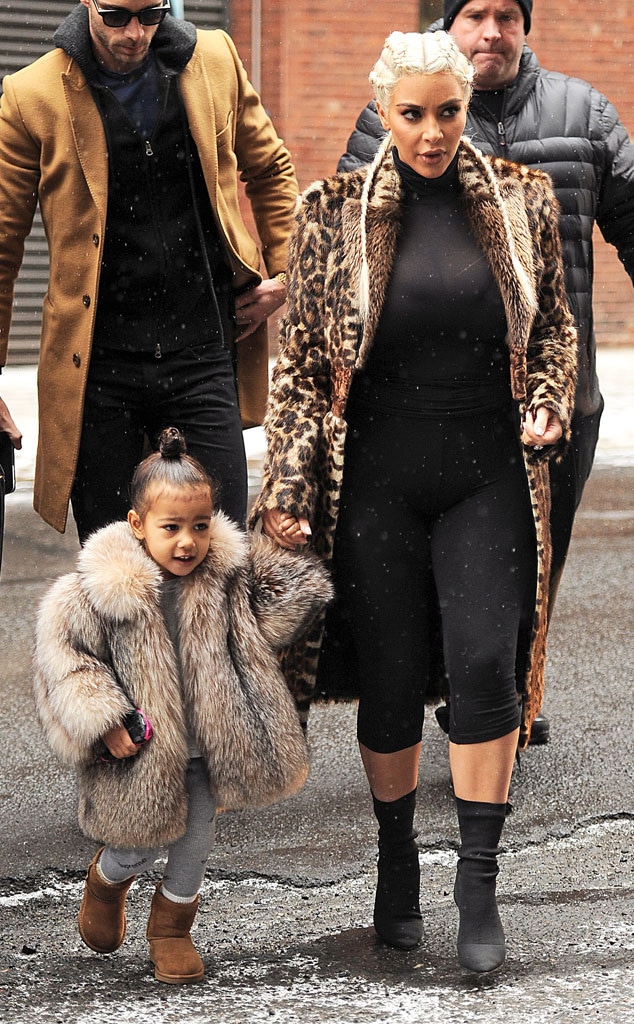 Splash News. This photo was taken with parental consent in accordance with E!'s No Kids Policy
There's no doubt about it: North West is one of the most fashionable toddlers in the world.
With parents who are constantly busy with their careers—not to mention, imprints on the fashion world—we've always wondered how Kim Kardashian and Kanye West's 3-year-old daughter manages to stay on fleek. 
Well, we may have just figured it out.
According to a new report, the toddler has an entire $5000-per-week glam squad helping to get her ready when her parents can't. "North has a wardrobe stylist, hairstylist and manicurist to doll her up every day," a source told Life & Style. "North is one of the most photographed children in the world. She loves having her hair and nails done, so it also keeps her happy."
The insider also notes that Nori's wardrobe is worth about $1 million, complete with "Hermès handbags and her own jewel-encrusted Balmain dress, designer shoes and even a snakeskin clutch."
Thus, we couldn't help but take a look back at some of the princess' most luxurious ensembles. Check it out:
Givenchy Baby: No one will ever forget when little North showed up at Paris Fashion Week wearing a matching Givenchy outfit with her mama in 2014. An adult-sized Givenchy dress typically runs around $1,500, so Nori's look was likely on the pricier side.
Charlotte Olympia Kitty Flats: The little one rocked a fur coat and Charlotte Olympia cat flats in 2014, looking as chic as ever. Those flats, by the way, typically run about $300.
Leather and Alexander Wang: North opted for leather and Alexander Wang while sitting front row at the designer's show in 2015. A similar jacket costs around $1,200.
A Princess in Oscar de la Renta: Nori was gifted this beautiful Oscar de la Renta gown by the esteemed designer before he passed away, which likely cost between $600-$900.
Ballerina in Balmain: North loves pairing her Balmain blazers with her ballet ensembles. She also has a similar coat in white! To put the price range in perspective, an adult-size of the same jacket runs around $2,000.
Fancying the Fur: This chic and stylish coat reportedly racks up to a mere $3,500! No wonder she's been spotted wearing it quite a few times. 
Pretty in Pink: The toddler showed off her girly side in this ballet ensemble, wearing a pink fur coat with a diamond choker. The coat sold out on BergdorfGoodman.com, but normally retailed for about $150.
Lady in Leather: No one will forget the time Kim took North to the pumpkin patch in this chic ensemble. Not only was she rocking leather pants, she also donned a pair of "North West" personalized sneakers.
Like Mother Like Daughter: The toddler proved to be just like her mama while hitting the streets of New York in this fur leopard coat, which we're sure cost a pretty penny.