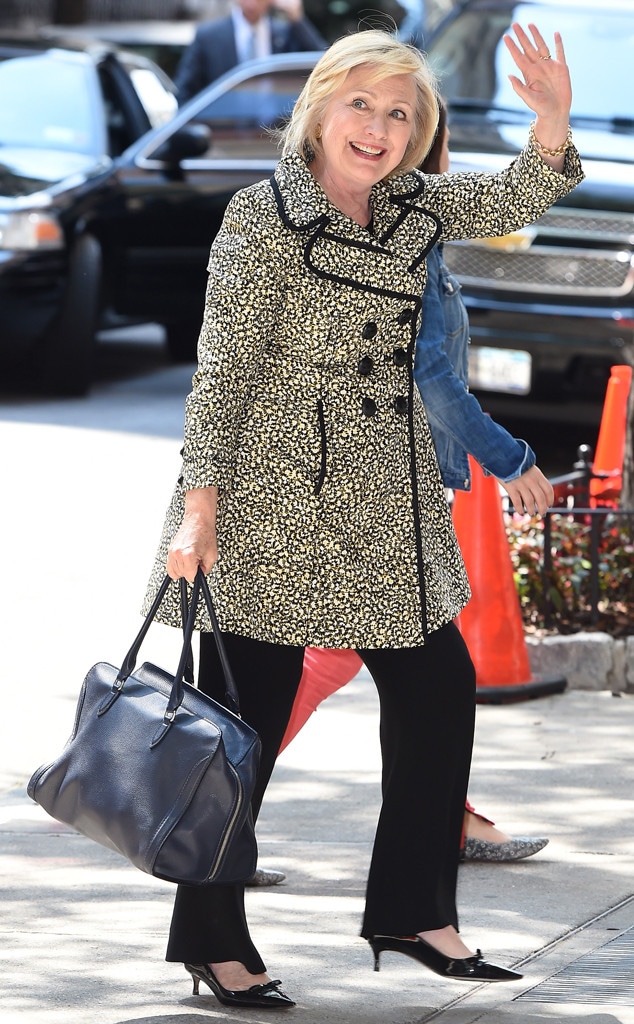 Ron Asadorian plash News
It's back to work for Hillary Clinton.
Only a few days after daughter Chelsea Clinton gave birth to her second child, grandmother Hillary is back to work on her presidential campaign. The presumptive democratic nominee attended a fundraiser hosted by Hollywood heavyweight Harvey Weinstein and his designer wife Georgina Chapman at their Manhattan home, where Jennifer Lopez, Sarah Jessica Parker, Matthew Broderick and Leonardo DiCaprio all turned out to support the politician.
Other attendees included Bethenny Frankel, Martha Stewart and Vera Wang.
It has been a busy few days for Hillary, as her daughter gave birth to baby Aidan Saturday. Hillary, husband Bill Clinton and Chelsea's husband Marc Mezvinsky all gathered at the hospital where they spent Father's Day doting on the newborn. Chelsea shared the first photos of Charlotte's little brother while still in the hospital.
"At 7:41 AM Saturday, our family and hearts expanded with Aidan's arrival," Chelsea shared on Twitter while holding her baby. "We are blessed."
The former Secretary of State also tweeted her well wishes. "What a joy being with our new grandson, Aidan," she shared on Twitter Sunday afternoon. "So grateful. -H" 
Chelsea previously opened up to E! News' Maria Menounous about all things motherhood and shared that she has come a long way since giving birth to her first child, Charlotte. "I figured it out, but it took a while to figure it out," she said of learning to balance work and family. "It also just took lots of, like...it's swallowing my pride and being comfortable with pumping in airport bathrooms and kind of wherever I needed to get it done."
She continued, "I wish there sort of been a guidebook on how do you think about this really, and how do you make this work?"
The way her mom has been doting on little Aidan, we're sure she'll have no problem figuring it out or having someone to turn to when she needs help!