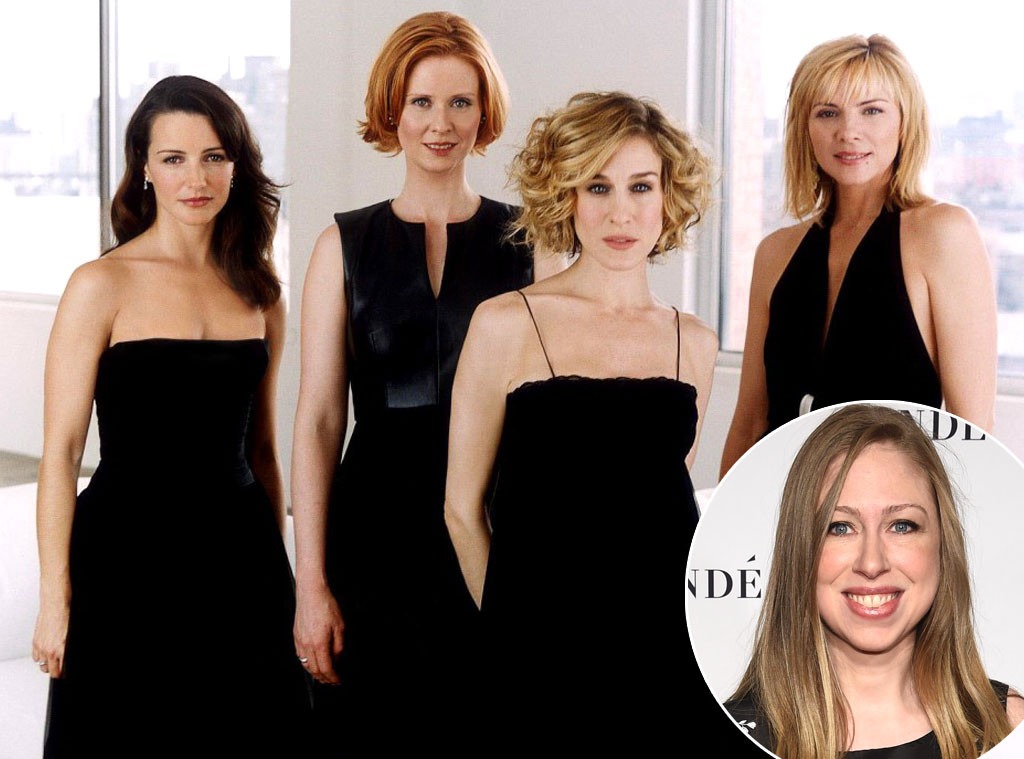 HBO; Getty Images
Calling all Sex and the City devotees! We think you've just met your match. 
Fans of the show are a special group. They've seen every episode so many times that they can recite lines at the drop of a hat. They subscribe religiously to the life advice that Carrie Bradshaw and her gal pals dole out, like to remember to take yourself on dates with your own city, always spend more than you can afford on shoes, and make sure to never date anyone that isn't attractive. Fans also spend hours and hours discussing the age-old question: Are you a Samantha? Or, God forbid, a Miranda? 
Being a die-hard Sex and the City viewer comes with its own bragging rights, but it seems as though there is a new bar for proving your allegiance to the show. And Chelsea Clinton just set it. 
Now how do we know that Clinton, normally known for her public speaking skills or level-headed campaigning for both of her parents, is so obsessed with SATC? Well, because of her children, of course.
Chelsea recently gave birth to her second child, a son, and when the name was announced we couldn't help but wonder just what it meant. She is now the mother to both a Charlotte and an Aidan. Yes, she named both of her kids after Sex and the City characters! It doesn't get more devoted than that, does it?
What's more, we are now privy to a little bit of insight into the usually-private Clinton's psyche. Those tidbits are that 1) She is clearly a Charlotte and 2) She is Team Aidan. You wouldn't name your daughter after TV's most famous York if you weren't a fan of pearls and sweater sets (and perfect hair at all hours the day, no matter the circumstances). And you definitely wouldn't name your son Aidan if you didn't think that Carrie made a big mistake by committing to Mr. Big for the rest of eternity. This is clearly her sub-conscious attempt to start an anti-Big movement among the SATC faithful. 
To which we say, we salute you, Chelsea. There are no fandoms more admirable than the Sex and the City fandom, and we applaud the constant commitment to your faith.