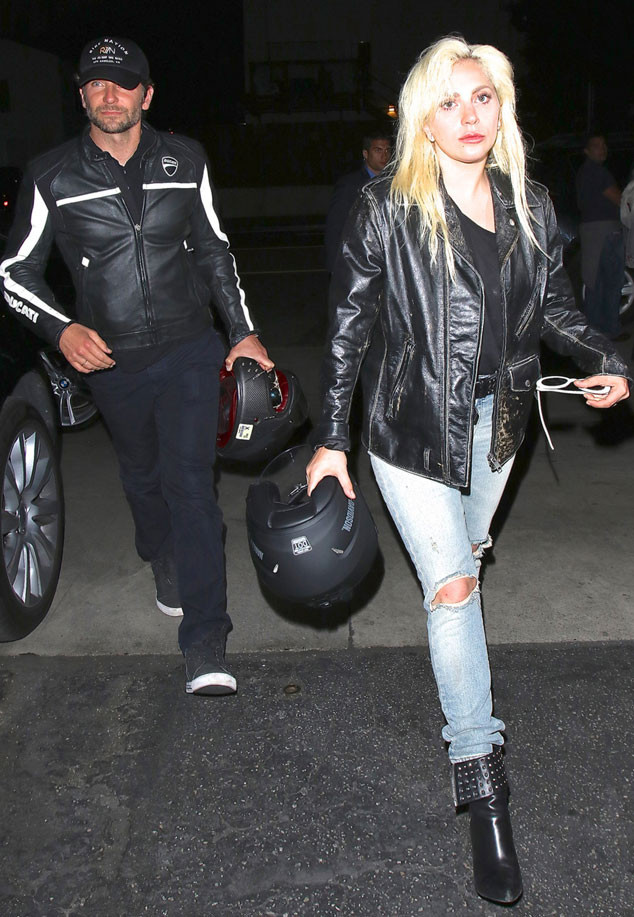 DCAP / GOME / Maciel / AKM-GSI
UPDATE: E! News has confirmed that Lady Gaga will star opposite Bradley Cooper in the feature film A Star Is Born. This will be the singer's first lead role in a film, and Cooper's directorial debut. In addition, Gaga will compose new songs for the film, which she will also perform.
Gaga tweeted, "Im elated to be directed by & starring w/ Bradley in this project. He's a brilliant visionary artist. #AStarIsBorn #AStarIsBornCooperGaga."
_________________________________________________________________________________
Lady Gaga and Bradley Cooper are not just motorcycle riding buddies—they may become co-stars.
The 30-year-old pop star is in talks to appear with the actor, who has been nominated for four Academy Awards, in his new A Star Is Born movie reboot, a source told E! News Thursday.
This would mark the biggest acting role for Lady Gaga, who won a Golden Globe for her role on the show American Horror Story: Hotel and was nominated for an Oscar for her music. She and Cooper, who is also making his directorial debut with A Star Is Born, have not commented.
The news comes about a month and a half after she and Cooper were photographed riding together on his motorcycle en route to a dinner at a restaurant in Los Angeles.
The Hollywood Reporter, which first reported about Lady Gaga's negotiations, said the singer had tested for A Star Is Born in front of Warner Bros. Pictures execs and impressed them. The studio has not commented.