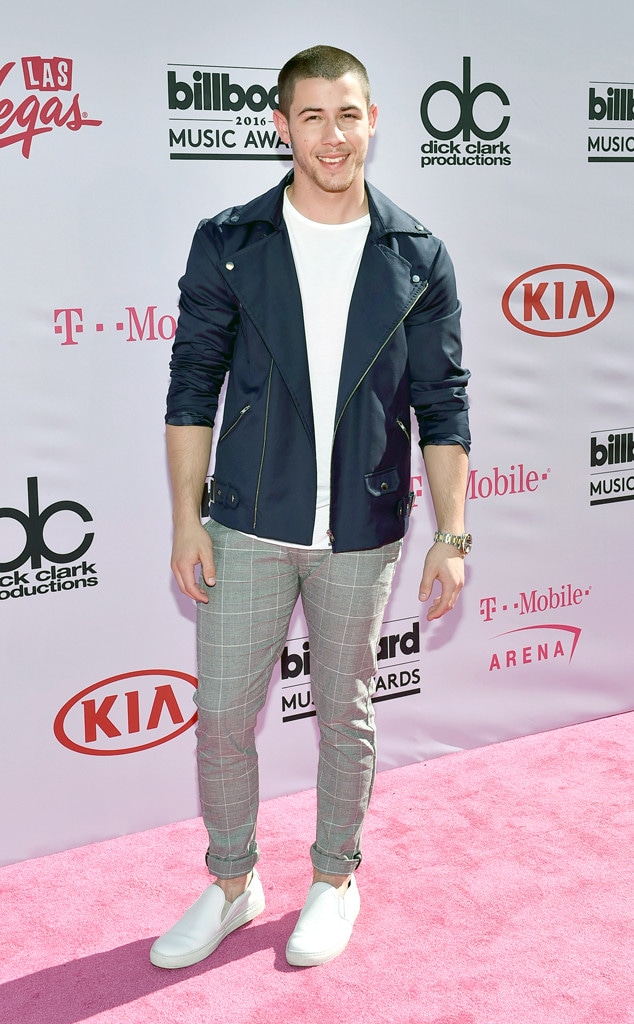 David Becker/Getty Images
Nick Jonas, you just can't seem to disappoint.
As the "Jealous" singer continues to promote his upcoming tour with Demi Lovato and his latest solo album titled Last Year Was Complicated, fans are being treated to plenty of interviews where the 23-year-old won't hold back.
Want to hear about his fetishes in the bedroom? We totally just found out. Still curious about that heartbreaking Jonas Brothers split? Nick will address that too. And what about that rumored romance with Kate Hudson? Well, let's just say the mystery continues.
We've decided to take a look at the best confessions from the performer in the past week alone. Guess what, guys? It's only Wednesday.
Stefanie Keenan/Getty Images for Variety
RIP Jo Bros: Fans have always wondered which family member initiated the conversation to end the Jonas Brothers. As it turns out, it was definitely Nick. "It was a very tough conversation, and it left the family kind of shaken up for a little while. I mean we were about to start a tour. We were two days from starting a tour," he shared with Andy Cohen. "We're good now. I have a beautiful niece. My brother has a family. Joe's band DNCE is doing very well. It's good for everybody and it's good that it happened because I think we all grew from it, but it was very challenging for a little while."
2. Watch the Weed: During an appearance on The Tonight Show Starring Jimmy Fallon, Nick looked back on the time he ate a weed lollipop before attending the Young Hollywood Awards. What came next was a NARB also known as a no apparent reason boner. "I walked off stage, I looked at my manager, I was like, 'Do you think anybody knew?'" Nick joked to Jimmy Fallon. As for the last time he smoked weed, Nick confessed to Andy that it was "probably like a month ago."
3. Let Us Fetish: During a speed round of questioning, Nick was asked about things he would and would not do in the bedroom. Watching porn in the bedroom with someone? "I'm not into it," he replied. Getting tied to a bedpost? "Not into it," Nick answered. As for getting spanked, let's just say it's a possibility. "Yeah, absolutely," he shared. "I've got a firm ass."
4. So About Kate: Romance rumors have surrounded Nick and Kate for months now. So perhaps it should come as no surprise that a Watch What Happens Live caller asked the singer the last thing he texted the actress. "Hope you're well," he responded. Hmmm
5. Breakup Blues: For those still curious about the reason behind Nick and Olivia Culpo's breakup, the "Chains" singer assures fans there was no cheating and he didn't get bored. Instead, it was just time. "We hit that point. We either going to move forward that way but we are both so young, didn't make sense," he shared on Hot 97. "It was tough for both people. I'm trying to stay single. I've got the tour coming up which is my main focus. And like I said I'm young. I got time."
(E!, NBC and Bravo are part of the NBCUniversal family)