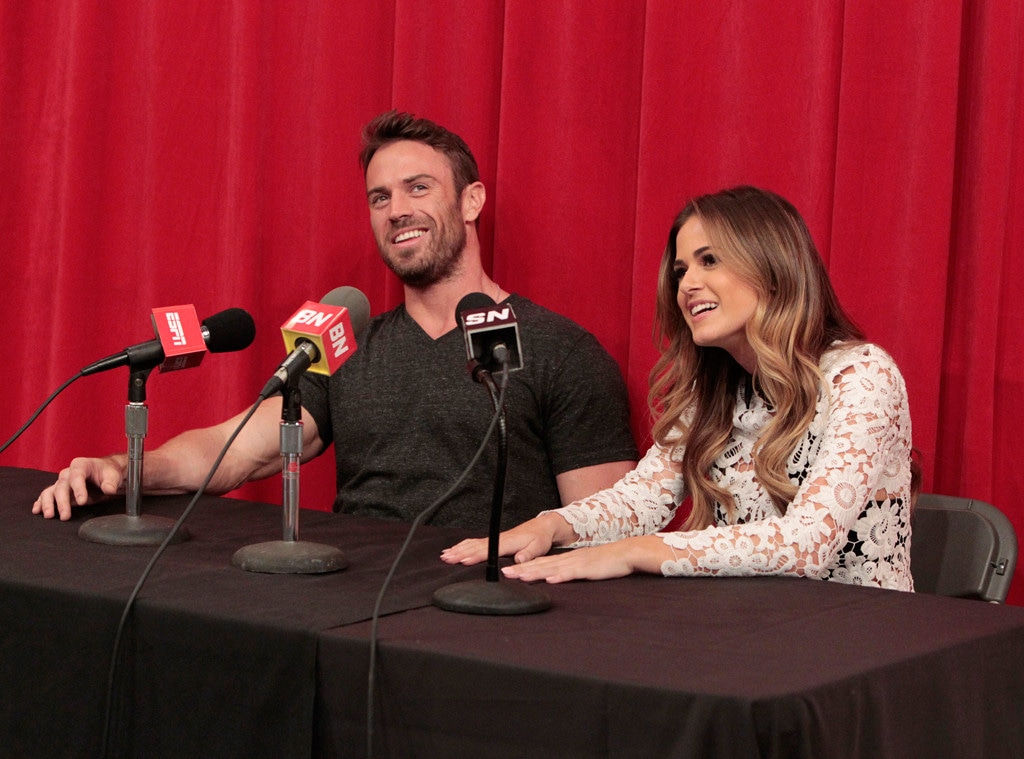 ABC
Chad Johnson's No. 1 fan? Chad Johnson.
While JoJo Fletcher is the Bachelorette this season, let's face it, The Bachelorette has unofficially turned into the Chad Johnson show, with the 28-year-old luxury real estate agent becoming an Internet sensation thanks to his odd workout methods, eating habits (there is no lunch meat left in California after his time in the mansion) and clashes with his fellow contestants. Seriously, imagine season 12 without him so far, there would be no drama or show, really. But fans of the ABC reality hit aren't the only ones enjoying the polarizing suitor's antics; Chad is, too.
"So I finally watched the show at my sisters.. Holy tits now I understand why some people hate me!" Chad captioned an Instagram video, posted on Tuesday night. "Haha but some parts were hilarious too. LOL"
In the video, Chad is watching the scene were he says he's "helping" JoJo out by giving her a break from the other guys, who he calls "immature." And yes, he's totally laughing at himself, because of course. 
Prior to his viewing party with his sister, Tiffany Johnson, Chad wrote on Twitter that he was not watching the episodes, saying, "I don't watch the shows, so did they show whether I killed someone yet? Or am I still waiting to find out LoL."
He's, of course, referring to the last episode's cliffhanger, which found Chad trekking through the woods to return to the house the rest of the guys were staying in after JoJo eliminated him on the dreaded two-on-one date, with marine (and president of the Anti-Chad Johnson club) Alex receiving the rose. 
"He shows up to the guys' house where we're all staying," Alex told reporters on a conference call after the episode aired. "At the time, I was actually with JoJo, so I can't comment on what happens." But that doesn't mean he didn't wonder at the time about the possibility of Chad resurfacing. "I thought about it, like, 'Man, what if this guy actually comes to break up me and JoJo here?' Fortunately he didn't, but he actually went and did that with the guys."
And while viewers have seen some of the men address concerns about their safety after Chad's threats of violence, Alex said he wasn't worried. "I would say Chad is a chihuahua, he likes to bark, so I'm not concerned for myself or any other guy in the house of any threats he's made because he was a big talker, and I think the show showed that. He never did anything physical because he wasn't going to do anything physical. He just liked to threaten people."
The Bachelorette airs Mondays at 8 p.m. on ABC.