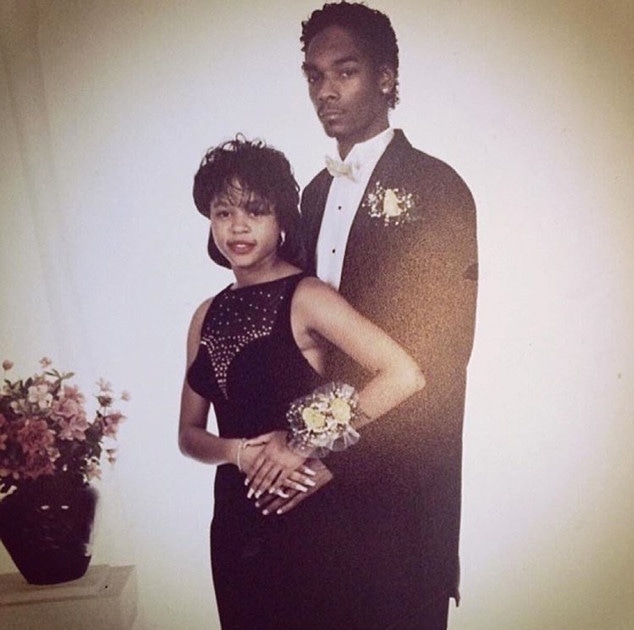 Instagram
How does a rapper make it to 19 years of marriage with his lady? Ask Snoop Dogg and he'll probably tell you it ain't nothing but a G thing, baby.
Even so, Snoop's (real name Cordozar Calvin Broadus, Jr.) marriage to longtime love Shante Broadus didn't always run smooth, but that's what makes today even more special. The Long Beach, Calif., native took to Instagram today to share an absolutely epic throwback photo of himself and Shante in honor of their anniversary.
With what looks to be a high school prom photo, Snoop writes, "19. Years today @bosslady_ent Happy anniversary been a1 from day 1. thanks for my kids."
While the photo alone is pure magic, their love is an example of #relationshipgoals, for real.
Broadus began dating Snoop when they were teenagers, before he became Snoop D-O-double-G and acquired an over-$100 million net worth, and the rapper ultimately put a ring on his high school sweetheart's finger in 1997.
However, the pair ran into some tough times, leading Snoop Dogg to file for divorce, citing "irreconcilable differences" in 2004, but the split didn't last long.
"I was trying to get a divorce, but I went back home and I fell back in love with my wife and kids. A lot of times you get cloudy," he told MTV at the time. "This music industry is a mother, man, and it'll take your vision and blur it. But God is good, so I understand that I need my wife and my kids in my life—so I threw the papers away. I don't want to get a divorce. So if you hear about a divorce, it'll be my wife divorcing me. It won't be me divorcing her...And I made a mistake, so I'm trying to get back right."
And Snoop wasn't too proud to beg for his woman back. The Death Row rapper explained how he made it work with Shante during an interview with Larry King.
"A whole lot of begging and pleading...it was up to me to try to put it back together, because I'm the one who said I didn't want to be a part of it no more...It's hard now to this day. It's still hard because there's a lot of, you know—there's a lot of roller coaster to a relationship. You know, we've been together for 17 or 18 years. We've been married for 10 years, but, at the same time, it's like, you know, some people in life are chosen for you. And I feel like we're chosen for each other."
The couple, who have four children together, renewed their wedding vows on Jan. 12, 2008, on Charlie Wilson's 20-acre ranch, which was a surprise ceremony for Shante. The pair reclaimed their love for one another in front of 200 of their nearest and dearest.
Happy anniversary, you two!
Watch:
Snoop Dogg Gets Down With Christina Milian