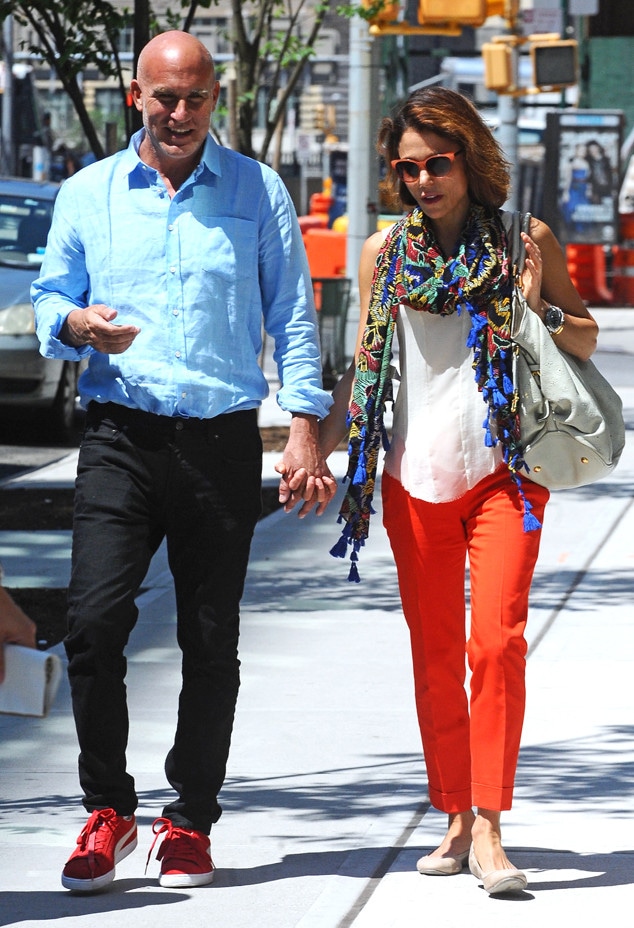 AKM-GSI
Bethenny Frankel has a new man, and she's not afraid to tackle any of the questions surrounding her budding relationship.
The Real Housewives of New York star has been at the center of some controversy after being spotted getting cozy with Big Apple banker Dennis Shields, who is still legally married.
While Frankel attacked the newly engaged Luann de Lesseps for dating a man that co-star Ramona Singer had also went out with, Lesseps shot back at the claims, telling E! News, "She calls me a hypocrite, but really she's the hypocrite. I'm the one getting married, I'm engaged, and Bethenny's still trying to get a divorce."
"You know, it was in the Daily Mail...she's dating married men, not me," she continued.
Frankel responded on Twitter, writing, "She's correct.I'm dating a legally married separated man-so perfect bc i'm legally married too! @CountessLuann xo."
So now that it's all out there, what else do we know about Bethenny's legally married beau Dennis Shields? Well, for starters...
1. He Married Young: Shields married Jill Schwartzberg back in 1990 when he was only 23 years old (she was only 21 years old). The pair wed at the New York City Plaza, with Rabbi Charles D. Lippman officiating the ceremony. The nuptials got some real estate in the weddings section of the New York Times.
2. Bethenny Knows His Ex-Wife: To make things even more interesting, the reality star knows Shields' ex-wife. While taking to Twitter to offer a clear explanation of her relationship status, Frankel added, "I'm married. I went to high school w his ex wife 30 yrs ago. Any other questions?" Um, yes, so many questions!
3. Shields Comes From an Established Family: According to his wedding announcement, success was practically embedded in his genes. Dennis' mother, Gail Shields, is a lawyer, and his father, Dr. Lawrence Shields, is a neurologist. So it's not too surprising that Dennis graduated from New York University, where he got a master's degree in public relations.
4. He Made a Name For Himself: Although he studied public relations, Shields became quite prominent in the banking world. Shields is the CEO of LawCash since it began in 2000. "He was a driving force in the creation of the American Legal Finance Association (ALFA). A nationwide association of litigation financing and lawsuit funding companies, ALFA aims to set the highest possible standards for the litigation financing industry," according to the website. He also is the Founder and Chairman of YieldStreet, one of the leading crowdfunding companies in the US, and the Founder and Director of Esquire Bank, a full service, federally-chartered bank.  
5. He's Known Bethenny For a While: While this relationship may seem fairly new to all of us, the foundation of this friendship has been building for quite some time. A source told Page Six in February, "Bethenny and Dennis have been friends for 27 years—and she did throw him a birthday party." A source also said, "Bethenny and Dennis' soon-to-be-ex-wife have a long history" and that "he's had feelings for Bethenny for a long time." 
As the old saying goes, timing is everything.
6. He's Camera-Shy: Don't expect to see Dennis' mug on the small screen just yet. A source previously told E! News that while Dennis never filmed Real Housewives of New York City, he did show up during filming one day where he stayed away from the cameras. But will we see an appearance later on? We can only hope!
Watch:
Bethenny Frankel Is Back for More on "RHONY"