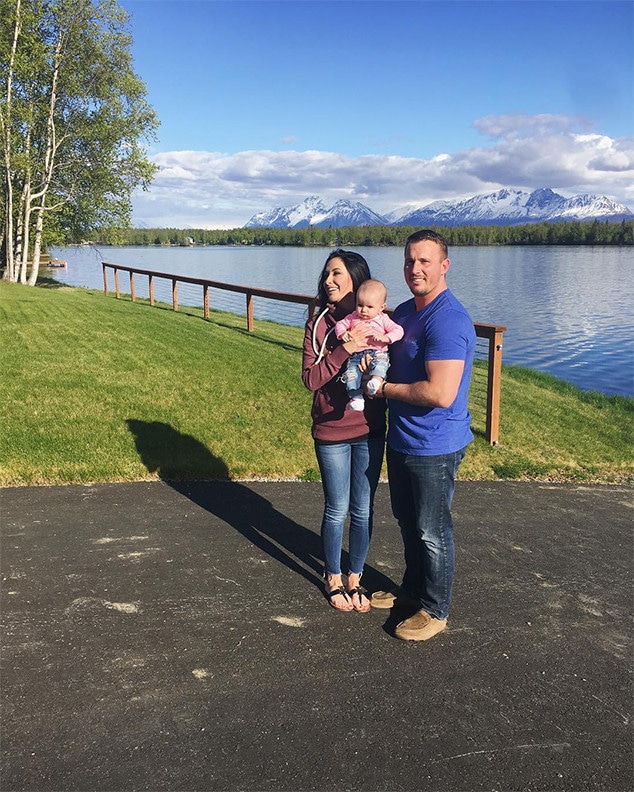 Instagram
Despite their roller coaster of a relationship, Bristol Palin and Dakota Meyer are officially married!
They confirmed the news to Entertainment Tonight saying, "Life is full of ups and downs but in the end, you'll end up where you're supposed to be. We are so happy to share with loved ones the wonderful news that we got married!"
They continued, "Hard work and God's grace are the foundation of our new life together, and with the love and support of our family we know we can get through anything." 
Of course, this comes as a big surprise to anyone who has followed their relationship. After a whirlwind engagement and subsequent breakup followed by the news of Bristol's pregnancy, their love story has been anything but normal.
In fact, let's take a look back at the timeline of their rocky relationship leading to their marriage:
January 23, 2015: Dakota met and posed with Sarah Palin at a SHOT show in Las Vegas, holding up a sign aimed at Michael Moore. However, at this point, there is no indication as to whether or not Dakota and Bristol had ever met.
March 13, 2015: Dakota and Bristol revealed news of their relationship for the first time by announcing their engagement. Prior to this, there was no knowledge as to when the couple started dating.
"Truly the luckiest girl in the world, cannot wait to marry this man!!!!" Bristol wrote in a post on Instagram.
Courtesy: Trulia.com; Getty Images
March 19, 2015: Less than a week after their engagement was announced, Bristol put her Alaska home up for sale and moved to Kentucky with her then-6-year-old son, Tripp Johnston (who she shares with her ex-fiancé, Levi Johnston).
March 26, 2015: Bristol announced that she and Dakota called off their engagement. Taking to her Patheos blog, she wrote, "This is a painful time for family and friends and I would just really appreciate your prayers." 
She added, "I know God's plan is greater than anything else, and Tripp and I are in Alaska beginning to rebuild our lives under much different circumstances than we anticipated."
June 25, 2015: Bristol revealed that she was pregnant with her second child, which we later learned belongs to Dakota. She took to her blog, yet again, to announce the news. 
"I wanted you guys to be the first to know that I am pregnant," she wrote. "Honestly, I've been trying my hardest to keep my chin up on this one. At the end of the day there's nothing I can't do with God by my side, and I know I am fully capable of handling anything that is put in front of me with dignity and grace."
She continued, "I know this has been, and will be, a huge disappointment to my family, to my close friends, and to many of you. But please respect Tripp's and my privacy during this time. I do not want any lectures and I do not want any sympathy."
December 25. 2015: Bristol welcomed Sailor Grace into the world on Christmas Day. Both she and Dakota shared a photo of their baby girl.
"Best Christmas present ever!!" Dakota wrote on Twitter. "I couldn't be more proud of this little blessing." 
Sarah Palin also wrote a sweet note posted on Bristol's blog. "Oh, perfect love! The best gift ever! Thank you, Bristol, for your strength and good heart and your love of life. The most important people in Bristol's life were there to witness the miracle of Sailor Grace Palin's arrival last night."
March 10, 2016:  The pair agreed on joint legal custody. Dakota filed a motion at the end of February requesting joint custody, and an Alaska just granted it a few weeks later, giving equal access to both parents (although Bristol had asked for "reasonable" visitations).
"The mother objects to overnight visitation because the child is currently breastfeeding nightly," explained the judge, per the Daily Mail. "However the court finds it in the best interests of the child that overnight visitation [with the father] occur. Mother is to provide father with an adequate supply of milk or formula for overnight visitation."  
May 8, 2016: Bristol and Dakota share the joys of co-parenting. While the mother-of-two shared a photo with her ex and the caption, "#Coparenting," Dakota shared a sweet message on Facebook for Mother's Day.
"Bristol, we definitely haven't always seen eye to eye but one thing that's never been a question is how amazing of a mother you are," he wrote. "Happy Mother's Day."
June 7, 2016: Dakota posted a cuddly photo of himself and Bristol—who was wearing a diamond ring—captioning it, "On one hand, we know that everything happens for a reason, and there are no mistakes or coincidences. On the other hand, we learn that we can never give up, knowing that with the right tools and energy, we can reverse any decree or karma."
He continues, "So, which is it? Let the Light decide, or never give up? The answer is: both."
And so their love story continues!