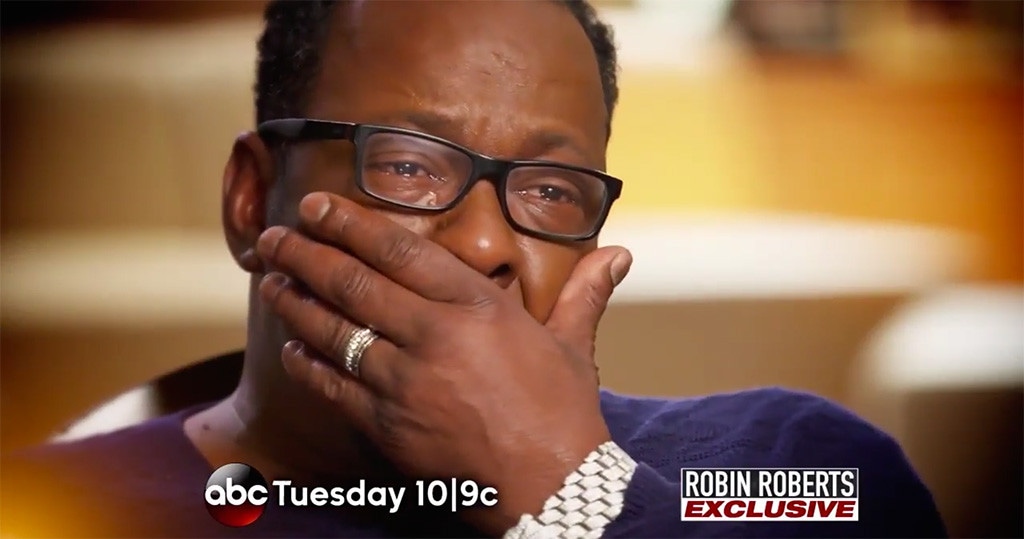 Twitter
Bobby Brown is setting the record straight about allegations that have trailed him for decades. 
The "Every Little Step" singer detailed all of the big steps of his own life in a tell-all interview with Robin Roberts for 20/20. As could be expected, the most prominent subjects of the conversation involved his late wife, Whitney Houston, and late daughter, Bobbi Kristina Brown, both of whom were found unconscious in bathtubs.
Though he's been blamed for getting the late Grammy winner involved with drugs, Brown claims that is not the case. "It wasn't me," he told Roberts. "I take my part and I take it hard for me even being a part of it, but we all have our own minds and some of us are stronger than others."
In his new memoir, Every Little Step, he describes seeing his ex-wife hunched over a bureau snorting a line of coke before their wedding, which she allegedly offered to him, but he says he did not accept. "It was the first time I actually had saw her do drugs," he described. "It only made me love her and want to protect her more."
Ron Galella, Ltd./WireImage
Though the singer maintains he and Houston never did drugs in front of their young daughter Bobbi Kristina, she was cared for by a nanny in a separate wing of the house while the couple got high.
"I always made a point to not let her see me or my wife in that type of situation, in that type of feeling," Brown said. "It's hard when, you know, you're doing it every day."
However as their erratic behavior on Being Bobby Brown escalated and Brown's arrest record grew, their personal and public personas collided, giving way to Houston's infamous "crack is whack" claim during an interview with Diane Sawyer. 
"We both needed to get away from what we were doing," Brown said of the interview. "[There] was no reason for her to be on television at that time."
Meanwhile, at the time of their reality show and growing drug use, Bobbi Kristina was just a child and Brown admits the couple was not at their best as her parents. 
"We should have been better. We could have been better," he said. "It [was] such a young age for us both to have any and everything that we wanted. It was a blessing and a curse."
While he concedes that his parenting was not up to par, Brown will not accept his rumored reputation as an abuser of women, particularly the late singer. 
"They said that I've harmed Whitney, that I was violent towards her," he said. "It was just lies. I've never been a violent man towards a woman ever."
However, in his book, he does admit to striking the singer once. "I did. Me at the time, trying to maintain a sobriety and the person that's in your relationship is not going aloing with it—it was rough."