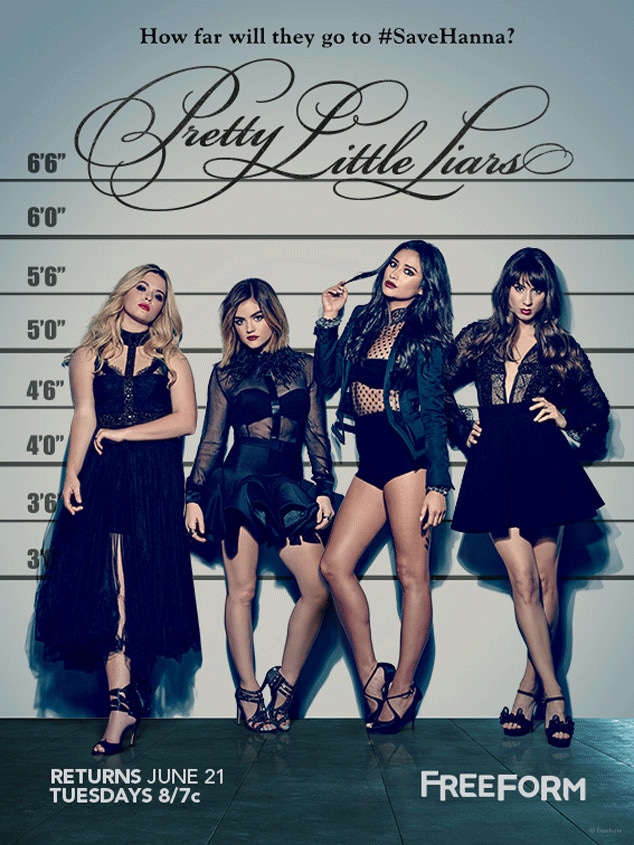 Freeform
Hanna, you in danger, girl! The dark and mysterious new poster for Pretty Little Liars season seven was revealed piece by piece on the show's Instagram account today, and there is one very important person missing from the line-up: Ashley Benson.
As we know, Benson's Hanna was kidnapped in the season six finale—and she's nowhere to be found in the ultra glam, ultra gorgeous, ultra leggy new key art. Instead, Sasha Pieterse, Lucy Hale, Shay Mitchell and Troian Bellisario are looking fierce as hell decked out in all black errythang, sky-high stilettos included, with a little mesh and lace and tulle thrown in for good measure.
But Hanna, WHERE YOU AT?! (Also, sort of unrelated but where is Sasha's other leg? There's a little bit of Photoshop fail going on in this particular poster, despite how fierce it actually is.)
In the season seven premiere, titled "Tick-Tock, Bitches," the PLLs and their pals will desperately race against the clock to save Hanna after she was abducted by Uber A. They'll also have to decide whether or not to cross some lines they've never encountered before—all the while knowing that if they do go in that direction, their lives will never be the same.
And while fans were left freaking out over Hanna's fate after the season six premiere, showrunner Marlene King told us Benson "loved" the cliffhanger when she received the script. "They all want to be dragged through the mud, they all love that stuff," she told us. "They're not big on happy endings, those Liars!"
But we don't think Hanna fans should be too worried about her well-being, as King teased, "Well, even when people are dead they still stay on our show. So that's what I will say. Look at Andrea Parker! And Alison DiLaurentis! It's always been our goal, no one is safe from 'A' and no one is safe from being 'A.'"
The episode premieres Tuesday, June 21 at 8 p.m. on Freeform. Earlier that day, the network will broadcast a marathon of the entire sixth season beginning at 11 a.m. and leading into the new episode. You can watch the super scary trailer for season seven above!
Watch:
Is "Pretty Little Liars" Really Over?