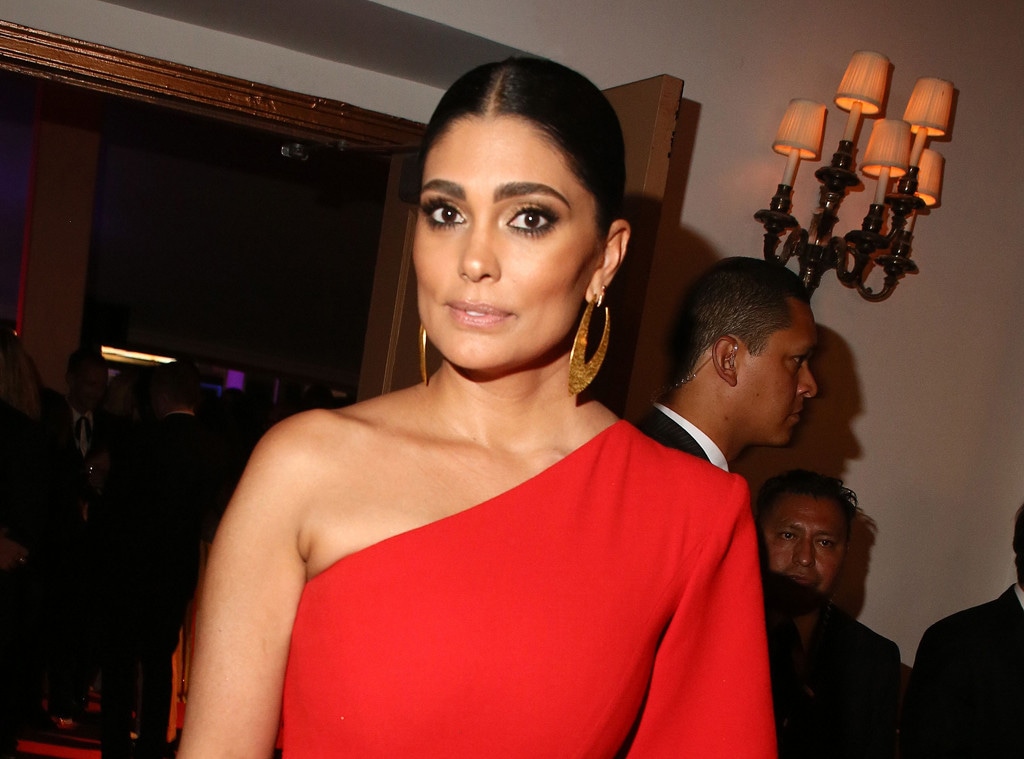 Evan Falk/WWD/REX/Shutterstock
So what's a woman to do once an entire nation—Beyoncé Nation, that is—has turned against her?
Rachel Roy had to figure that one out fast in late April after she realized that no one had a sense of humor when it came to Becky, her good hair and whatever she may or may not have done with Jay Z that prompted Lemonade, one of the most scathing, scintillating, puzzling and brilliantly marketed damn-and-forgive albums ever.
Considering the Beyhive overstepped (what? the Beyhive? never!) and directed part of their ire at Roy's two daughters, the fashion designer immediately canceled her scheduled speech at NeueHouse's  "Mastering Your Métier" event in NYC and scrubbed her Instagram of personal pictures (though the Twitter posts linking to the no-longer available photos remain).
And we can only imagine what sort of comments were amassing at a rapid clip alongside any photo of Roy's face, considering her April 24 tweet in the face of all the hate:
"I respect love, marriages, families and strength," she wrote."What shouldn't be tolerated by anyone, no matter what, is bullying, of any kind."
But despite the ughness that occurred, the business of being Rachel Roy had to go on! The mother of two (with Jay Z's former business partner Damon Dash) couldn't just disappear. There were products to promote, a lifestyle site to run, Mother's Day to celebrate and more everyday-life responsibilities.
All of which transpired in the least personal way on social media, Roy's last picture of herself being a shot posted eight weeks ago—before the Lemonade fiasco.
"Rachel...I really miss the post of you and the girls," one fan commented on the old shot, referring to a pic that had been taken down. "You are such an inspiration. I truly respect the example you have set for your girls as a continually evolving, positive and hard working woman willing to go after her dreams."
Presumably that sort of support helped as Roy navigated at least the beginning of the month of May as a pop culture pariah, before the hungry masses moved onto the next shocking celebrity thing (and equally wild "Becky with the good hair" conspiracy theories).
Paparazzi spotted her in L.A. with luggage on April 25, the day she was supposed to be in New York for the speaking engagement, but after that she went off the grid—minus daily business-of-fashion posts on social media that easily may not have been posting herself.
She skipped the Met Gala (all Bey all the time) and reemerged May 11 in Santa Monica, Calif., at the 3rd Biennial Rebels With a Cause fundraiser, her first public event since the Lemonade fiasco. That was also the first day she started injecting bits of herself, other than her brand name, back into her social media, starting with a John Dunne quote: "Always look to the light and the good you can find and do for others there."
Roy continued to lay low, then on May 25 (she's a #WellnessWednesday fan) she captioned her meme, "Your power lies in your reaction. Don't give your power away." And the meme itself was a Wayne Dyer quote, "How people treat you is their karma; how you react is yours."
If she hadn't waited a month to post, we'd 100-percent connect that to the Beyoncé drama, but we doubt even her quiet, relatively private month healed the entire sting from that initial 24 hours.
Marion Curtis/Starpix/REX/Shutterstock
Next up for Roy was the June 5 New York premiere of Genius, about storied book publisher Max Perkins; then she stayed in town and, last night, she posted the first pic of herself on her Instagram in over a month and attended the 2016 CFDA Awards in Manhattan.
As did Beyoncé and Jay Z, with Blue Ivy in tow.
A source tells E! News that Roy, who was wearing a red, one-shoulder gown, was in the ballroom when Beyoncé accepted the Fashion Icon Award but they did not interact at all—not even eye contact.
Bey was just enjoying the night out with her family and we're told that drama is basically the last thing on her mind—despite, apparently, the creative high point she just hit thanks to all sorts of drama.
Meanwhile, Rachel Roy is back on the scene—and on social media. Memories are long, but actual drama tends to have a short shelf life.