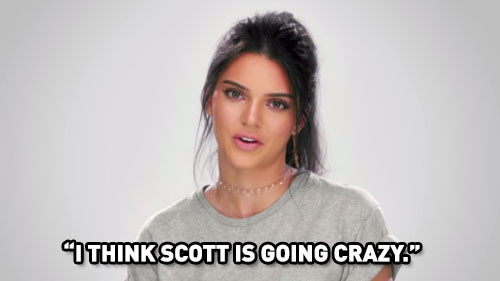 E!
Scott Disick was determined to prove he's cursed on tonight's Keeping Up With the Kardashians.
He was so convinced he'd been hit with the alleged "Kardashian curse" he visited a card reader with Kendall Jenner to prove his suspicions. "Anybody that's dated a Kardashian...has gotten cursed," Scott told her. "There's something going on in the water." But was it actually real?
The psychic revealed Scott has a lot of negative energy around him and that, yes, he is in fact cursed! In order to rid himself of the affliction, she instructed him to make an offering with a rooster while dressed all in white. Oh, and then he had to take an herbal bath.
Yes, seriously.
Despite the unusual advice, Scott went ahead and purchased a rooster from a farm in order to perform the curious ritual. But when Kim Kardashian and Kourtney Kardashian found out about his antics, they quickly put him in check.
"It's not real," Kim told him. "I'm offended!"
"You blame your actions on something else, somebody else," Kourtney added. "You just always have an excuse for everything."
After hearing Kourt's opinion, Scott eventually came to his senses. "You know, I may have gotten a little caught up with this curse thing and maybe taken it a little too far," he admitted. "Maybe there's not a curse, and maybe I should stop with the excuses."
But the real question is, what ever happened to that poor, innocent rooster? "Who knows, if I tell Kourtney the rooster is gluten-free and organic-free she may keep the f--king thing," Scott said. "I don't know!" LOL!
Meanwhile, Khloe Kardashian revealed she's moving forward with her divorce from Lamar Odom. "Lamar's put me through some s--t," she explained. "I need this marriage to end because it's depressing."
In an effort to lift Khloe's spirits, Kris Jenner planned a girls' trip to Napa with Kourtney for a some wine tasting—that also provided a hilarious glimpse at a very tipsy Kris. But in between all of the fun, Khloe got upset with her mom for crossing boundaries with Lamar and inviting him to dinner.
"I love mom, and I know her intentions are super good, but I feel so much pressure," Khloe told Kourtney. "I just want to support him and take care of him, but sometimes I get frustrated, like why don't you want more for me too? Why is she so on his side and never really mine?"
When they returned from the trip, Khloe sat down with Kris to kindly ask her to back off. "Don't you ever think it's a cute surprise to have Lam come somewhere," she said. "You guys don't understand, it's like this snowball that starts rolling out of control. I'm tired of feeling trapped."
She continued, "I don't look at Lamar in a romantic way. I want to have kids one day. I might want to get remarried one day. So I'm just going to sit in this weird space? Lamar and I are not together, that's what I'm trying to tell you. So I need to move on, and I will be filing for divorce very soon."
Kris then acknowledged that she understood where Khloe was coming from. "Sometimes I forget what you've gone through," Kris said. "You come first, and I'm here for you. I understand it when you say it like that. I get it."
Elsewhere, Jonathan Cheban is feeling neglected by Kim, who is too busy with mom life to hit the town with him. "After you have a baby, you just want to stay home," she explained to him. "I don't know what to tell you. It's just like too much."
When he realized he couldn't guilt Kim into hanging out, he resorted to trying to make her jealous. In a comical turn of events, he recruited a Kim K. look-alike named Kamilla Osman to be his new partner-in-crime. But the situation got awkward when they run into the real Kim at the doctor's office—and Mrs. West is not impressed with Jonathan's scheme.
"The fact that Jonathan would take it to this level is so bizarre to me," Kim said. "Jonathan's trying to rub this in my face and make me feel some type of way, but I don't. Thank god someone can get him off my hands for a little bit!"
Oops, that plan definitely backfired!
Despite the uncomfortable situation, Kim does take the opportunity to take a photo with her doppelganger—because why not?
"Jonathan can try all he wants to try and replace me, but he can't," Kim said. "Go try, honey." Oh, snap!
Finally, the award for highlight of the night must go to Kourtney wearing butt pads…casually doing squats…in heels!
"Damn, you look like Naomi Campbell," Jonathan exclaimed after witnessing Kourt's textbook form. "Damn, you go down low! You're like a f--king stripper at King of Diamonds on Monday nights in Miami!"
Go ahead, girlfriend!
Watch:
"Keeping Up With the Kardashians" Katch-Up S12, Ep. 6